Bangladesh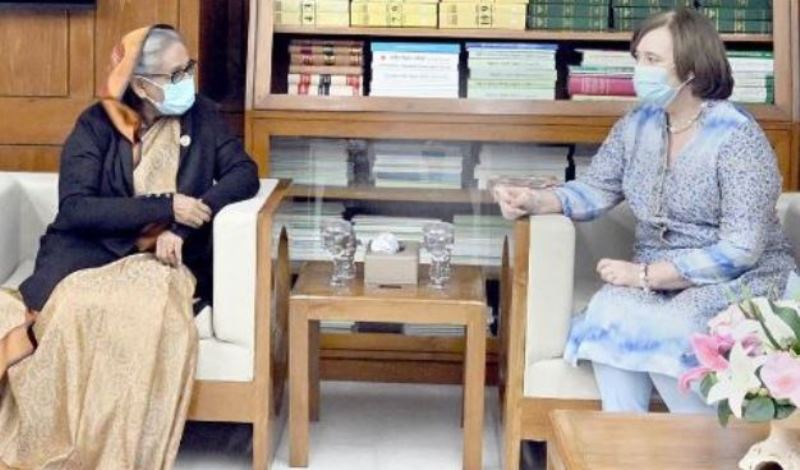 Photo: PID
Govt is working to build a developed country by involving women: PM
Dhaka, January 23: Prime Minister Sheikh Hasina said that her government will take Bangladesh towards a developed country along with the women in the society.
She said, "In 2026, Bangladesh will finally be promoted to a developing country. We will go further. We are designing all our development programs keeping that in mind. We will move forward by involving women."
She said this when a delegation of the Council of Patrons of the Asian University of Women (AUW) met her at the PMO in Parliament House on Sunday.
The delegation was led by Chancellor of the University Cheri Blair.
PM's speech writer Md. Nazrul Islam briefed the journalists after the meeting.
The Prime Minister said that the main goal of her government is to ensure the overall development of the country including food, education, and health care for all. In this regard, she asked the AWW delegation to develop such a curriculum that will develop students as entrepreneurs and skilled human resources to face future challenges.
The Prime Minister said, "Not just general education, provide education that will make them skilled, not make them unemployed." The Prime Minister also mentioned that she has donated land for this university. She said that women's education is essential for the development of any country.
Sheikh Hasina briefly highlighted the various programs undertaken by her government.
When the issue of Afghanistan came up in the meeting, the Prime Minister said that there is no opportunity to stop the education of women in the name of Islam. She also mentioned that Islam always talks about equal rights for men and women.
Regarding Afghanistan, Sheikh Hasina also said that the current Afghan government is forcibly stopping women's education in that country.
She said, "The whole world is witnessing this, no one is taking any action against it." She also mentioned that she has dedicated her life for the development of the country and its people.