Bangladesh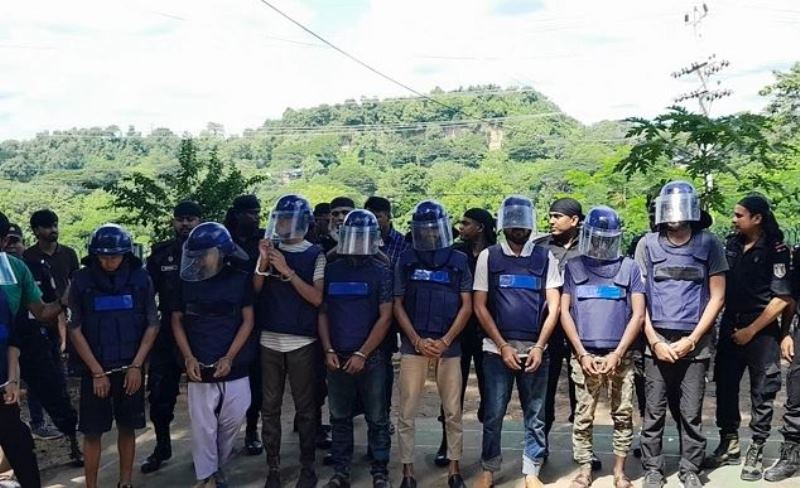 File photo/Collected
Govt to ban terrorist group 'Jamatul Ansar Fil Hindal Sharqiya'
Own Correspondent, Dhaka, Oct 31: New militant organization - Jamatul Ansar Fil Hindal Sharqiya. The new platform of militants consists of members from banned militant organizations such as Jamaatul Mujahideen Bangladesh (JMB), Ansar Al Islam, Harkatul Jihad Bangladesh (HUJI). Recently several members of the organization have been arrested from different parts of the country. They were organizing in disguise. Law enforcement forces have taken initiative to ban this new militant organization.
It is learned that several important lists including activities, objectives, and members of the organization are being prepared. The Ministry of Home Affairs will declare the new militant organization banned after the document is sent from the police headquarters.
Law and order forces say that the government has already banned almost all militant organizations in the country. As a result, militant organizations were looking for new platforms to carry out their activities. That is why the militants were continuing the activities of the organization with a new name. Eight organizations were banned as militant and radical Islamic organizations in Bangladesh. Finally, on November 5, 2019, the militant organization 'Allah-r Dal' was legally banned.
Earlier, the government banned Ansar Al Islam as a militant organization on March 1, 2017. For being involved in militancy activities, the Ministry of Home Affairs had previously named Shahadat-e-al Hikma on February 9, 2003, Harkatul Jihad Bangladesh (HUJI-B) on September 2005, Jagrat Muslim Janata Bangladesh (JMJB) and Jamaatul Mujahideen Bangladesh (JMB) on October 17, 2005. Hizb ut Tahrir on 22 October 2009 and Ansarullah Bangla on 25 May 2015 were banned as teams.
After the Ansarullah Bangla Team was banned in May 2015, its members continued to operate under the name Ansar al-Islam under the leadership of Major Ziaul Haque alias Zia, the mastermind behind the failed coup attempt in the army. In March 2017, Ansar al-Islam was also banned by the government.
It is known that the new militant organization Jamatul Ansar is led by Phil Hindal Sharqiya, an expelled teacher of the Open University. whose name is Shamin Mahfuz alias Shamin Sir alias Mending Murong. Law and order forces are trying to arrest the fugitive Shamin.