Bangladesh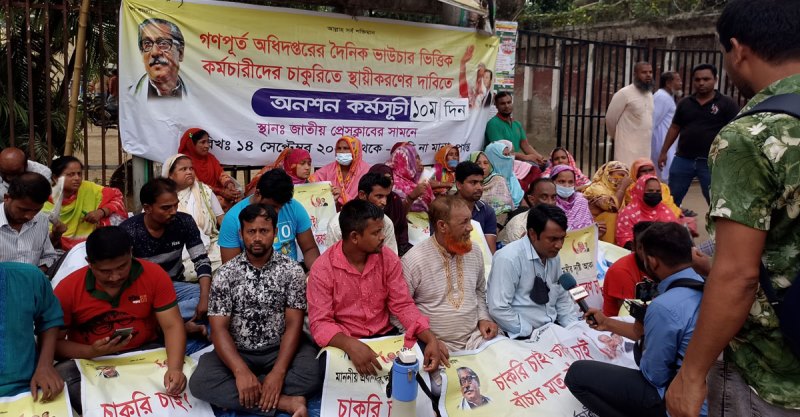 Photo: Collected
Harijan community demands job stabilization and salary hike
Own Correspondent, Dhaka, Sept 25: The Bangladesh Harijan Oikya Parishad has demanded seven points, including job permanency and salary increase ,for Harijan community cleaners working in the city corporation or municipality.
Speakers made these demands at a press conference organized at Tafazzal Hossain Manik Mia Hall at the National Press Club on Friday (September 23).
Organizers said at the press conference, "Despite the Harijan community being the first employees of the city corporation or municipality, our jobs are still temporary today. So, the jobs of cleaners should be made permanent and in all cases, outsourcing or recruitment by contractors, irregularity, and trade should be stopped and an 80 percent quota should be implemented for the posts of sweepers, cleaners, sweepers (cleaners) as per the notification of the government and promotion to the post of 20th-grade cleaners should be given."
They also said that our salary structure is Tk 1,200 to Tk 6,000, which a family cannot sustain in any way. Considering the current market price increase, a cleaner should pay a minimum salary of Tk 15,000 in the municipality and a minimum of Tk 22,000 in the city corporation. Two festive allowances equal to the basic salary shall be paid. Health insurance should be introduced for the health security of Harijans.
Professor Robayet Ferdous of Dhaka University was present at the press conference. He said, "Harijan is a large community living in Bangladesh. They are the victims of social and state ostracism, discrimination, and deprivation due to their profession. But they have been serving us."
He said, "I support the just demands of these cleaners, we call on the government to free them from hate and discrimination forever."