Bangladesh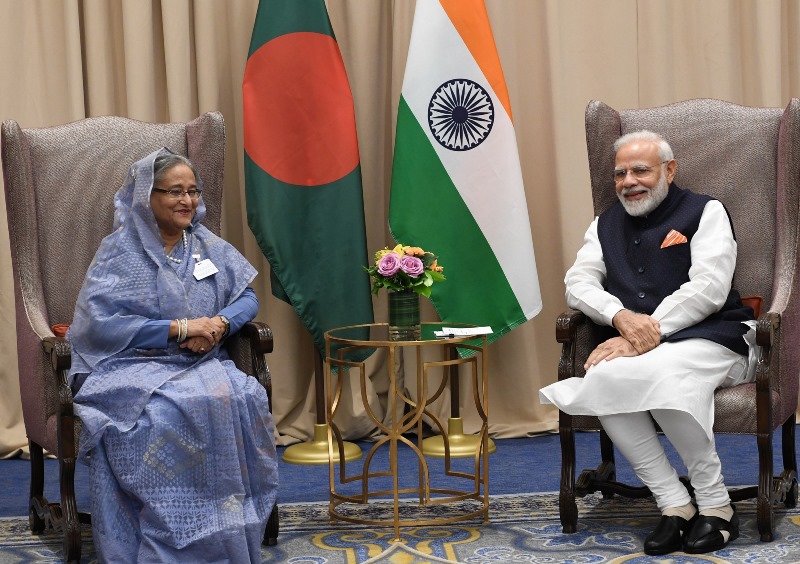 File photo/Wikimedia Commons/PMO India
Hasina-Modi meeting in Delhi on September 10
Dhaka, Sept 4: The two-day G20 summit will be held in New Delhi, India, on September 9-10. A bilateral meeting between Bangladesh and India is likely to take place on September 10, the last day of the conference. Prime Minister Sheikh Hasina will lead Bangladesh and her Indian counterpart Narendra Modi will lead India.
Prime Minister Sheikh Hasina will return to the country on the same night after the meeting and hold a bilateral meeting with French President Emmanuel Macron in Dhaka the next day. The French President is coming to Dhaka on a short visit on September 11 at the invitation of Prime Minister Sheikh Hasina. Incidentally, this is the last bilateral meeting between Sheikh Hasina and Narendra Modi before the upcoming national elections of Bangladesh and India. During this meeting, the two Prime Ministers may inaugurate the newly constructed Akhaura-Agartala and Mongla-Khulna railway lines.
Those concerned said that Bangladesh is making 'all-out' preparations ahead of G-20, one of the world's most important summits held in India. Discussions are going on about what Bangladesh will say in the conference, how to connect expectations and achievements. However, Bangladesh is giving importance to two parts in that conference. One of them is Bangladesh's expectations and achievements from the conference and the bilateral meeting with the Prime Minister of India in the next part.
Meanwhile, after the inter-ministerial meeting on 'United Nations Water Conference-2023' at the Ministry of Foreign Affairs on Sunday afternoon, Foreign Secretary Masood Bin Momen said in response to the questions of the journalists that the Teesta issue will be discussed in the meeting of Prime Minister Sheikh Hasina with Indian Prime Minister Narendra Modi in New Delhi.
He said, Prime Minister Sheikh Hasina will attend the G-20 summit in New Delhi next week. On the sidelines of the conference, the Prime Minister of Bangladesh will meet with Indian Prime Minister Narendra Modi in New Delhi. The share of Teesta river has been discussed at high political level. This time too, I hope the Prime Minister will raise the issue. We also have other issues.
Masud bin Momen said, "We have 54 identical rivers. There is the Ganga water sharing agreement, that will also be taken up (in discussions). Our Joint Rivers Commission and others are continuing to discuss all issues."
When asked whether inter-state rivers will be discussed in the Hasina-Modi meeting and today's inter-ministerial meeting, the foreign secretary said, "We have not discussed it separately. I have discussed the implementation on the sidelines."