Bangladesh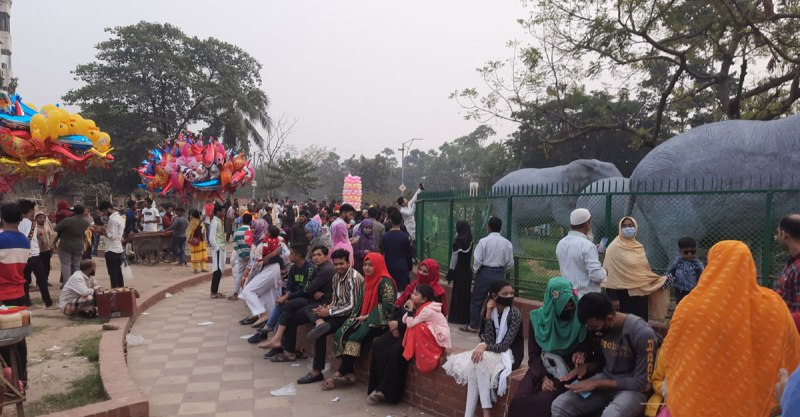 Collected
Hatirjheel hosts Victory Day fair
Dhaka, December 17: On the occasion of the Great Victory Day, the whole of Bangladesh is celebrating. From lanes to the streets, parade grounds, parks and recreation centers, the youthful exuberance is everywhere.
Hundreds of people are celebrating in a festive atmosphere. Red-green flags were also seen on public and private buildings including houses and cars. Hatirjheel, one of the capital's entertainment centers, was not left out in such festive and colorful arrangements. The spontaneous participation of the people spread the joy of victory throughout the country.
Some come with family, wife and children, some with friends or loved ones to share this joy. Many of the young to middle-aged wear flag bands on their heads, some have painted the message of victory on their hands or cheeks.
Since morning, hawkers have been seen carrying flags, balloons, puppets, flutes and toys. In addition, large and small restaurants have seen overcrowding. This is how this one of the capital's entertainment center is covered on the day of victory.
Nusrat Farzana, a student of a private university in the capital, came to Hatirjheel in the afternoon with five friends. She said, all the other days the class-examination was held. "Today is our victory day, so I came to celebrate victory day in Hatirjheel wearing red green saree. But here are a sea of people and there is no place to step."
On the other hand, the water taxi of Hatirjheel adds a new dimension to the joy of victory. On the occasion of the special day, the water taxi authority in Hatirjheel launched a 30-minute boat tour package after stopping the passenger crossing. On the occasion of Great Victory Day, the Hatirjheel Pani Path tour package was launched with the closure of passenger crossings. In this case, the fare is fixed at 80 taka per person for 30 minutes.
On December 16, 1971, the Bengali nation broke the shackles of subjugation and took the first taste of freedom. On this day, the victory was achieved through the surrender of the Pak Army at the Race Course Maidan (now Suhrawardy Udyan) in Dhaka.