Bangladesh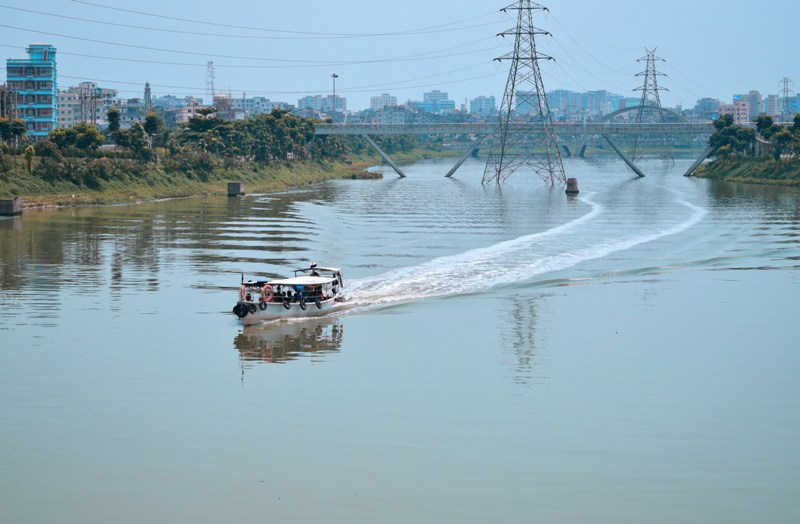 File photo/Wikimedia Commons/Al Abdullah Islam
Hatirjheel 'public property', ban water taxi, evict commercial establishments: HC
Own Correspondent, Dhaka, May 25: Declaring the capital's aesthetic area Hatirjheel a 'People's Property', the High Court has ruled that all kinds of commercial establishments there, including hotels and restaurants, are illegal and out of jurisdiction.
It has been directed to evict all commercial establishments in Hatirjheel area within 60 days after receiving the copy of the verdict. Besides, the court has given nine suggestions, including four point instructions, in the verdict.
The proposals include the creation of footpaths, bicycle lanes, separate lanes for the physically challenged in the Hatirjheel area, as well as a ban on all such mechanical vehicles and water taxi services on lakes that are harmful to water.
The 55-page judgment was published on the Supreme Court's website on Tuesday (May 24), signed by Justice Md. Ashraful Kamal and Justice Rajik Al Jalil.
According to the verdict, Hatirjheel area, including Dhaka's lung Begunbari canal, which is known as 'Hatirjheel' is a public trust property i.e., 'people's property' as per the constitution, environment law, water law and Turag Nadi verdict.
The Hatirjheel-Begunbari project in the capital was declared a public trust (people's property) on June 30, 2021 by the aforesaid bench of the High Court.
The High Court in its full judgment in the eviction order of Hatirjheel said that the water of Hatirjheel and its spectacular beauty is an priceless resource. This priceless resource cannot be destroyed or damaged in any way.
Human Rights and Peace for Bangladesh filed a writ petition on September 9, 2018 after a report was published in the media about the passive role of Rajdhani Unnayan Kartripakkha (RAJUK) in stopping the activities of some business organizations outside the guidelines of layout plan in Hatirjheel-Begunbari project. The High Court issued a rule on September 10 of that year hearing the writ petition. The court ruled on June 30 last year that the rule was appropriate.
The verdict said that every drop of water is very valuable. There is no other resource in the world that is more valuable than water, especially drinking water. Therefore, prevention of contamination of water is essential.