Bangladesh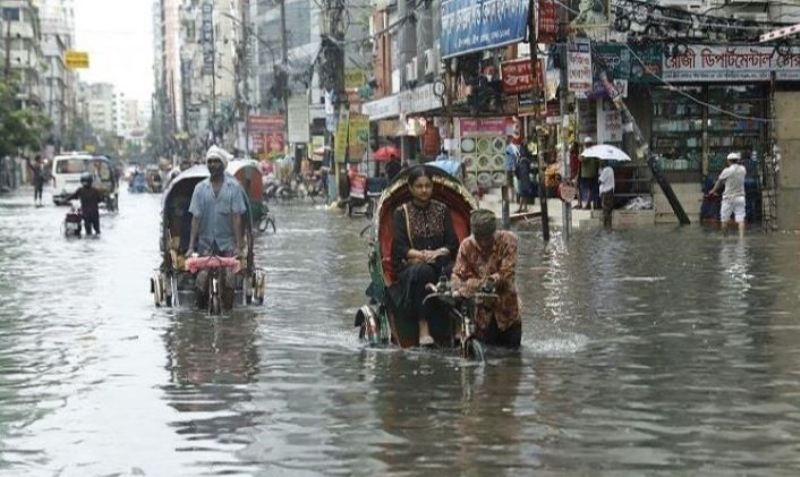 Collected
Heavy rains inundate Dhaka, spoil Eid celebrations
Dhaka, July 1: It rained heavily in the capital for more than an hour. Due to this, knee-deep water has accumulated in various areas of Dhaka. This rain has spoiled the joy of Eid. Because water has accumulated in front of the house, it has become difficult for many to leave the house. As a result, many of those who had planned to go out with their families during the Eid holiday had to cancel those plans.
On Saturday, the third day of Eid, the sky in Dhaka was quite clear from morning to noon. Although the day started bright, around 3 pm it suddenly started to rain in torrents. It rained heavily for more than an hour. Although the intensity of the rain decreased a little around 4 pm, rain water continued to fall from the sky at 5:30 pm.
In the last 24 hours, Dhaka has received 91 mm of rain, said the Meteorological Department. As a result of this rain, almost all alleyways of old Dhaka, including Green Road, Mirpur Road, Dhanmondi, were submerged in knee-to-chest water. Most of the lanes in Greenroad and Rampura areas have almost knee-deep water. Even the houses get rain water. The car parking area is also filled with water. Added to that is the power outage. As a result, the city dwellers became a kind of house arrest.
Water has also accumulated in different lanes of Mirpur region. Water accumulation in the lanes was also seen in Badda, Malibagh, Khilgaon, Rajarbagh areas. Resident of Rampura. Mamun said, the Eid holiday is coming to an end. The office will open from tomorrow. I could not go out with my children for the last two days because of the rain. The sky was good this morning, we planned to go for a walk together in the afternoon. But it was not possible to go out due to rain. This year's Eid joy of the children was destroyed by the rain.
Resident of a house in Rampura Commissioner Street. Eamon said that he cleaned the dirty water lines of this area a few days ago. But today's rain has accumulated knee-deep water on the road. There is no way out of the house. I got five days off this Eid. But we did not go for a day with the children. He said, the happiness of children is the biggest thing during Eid holidays. This time due to the rain, children did not get a chance to enjoy. They are spending their time in prison.