Bangladesh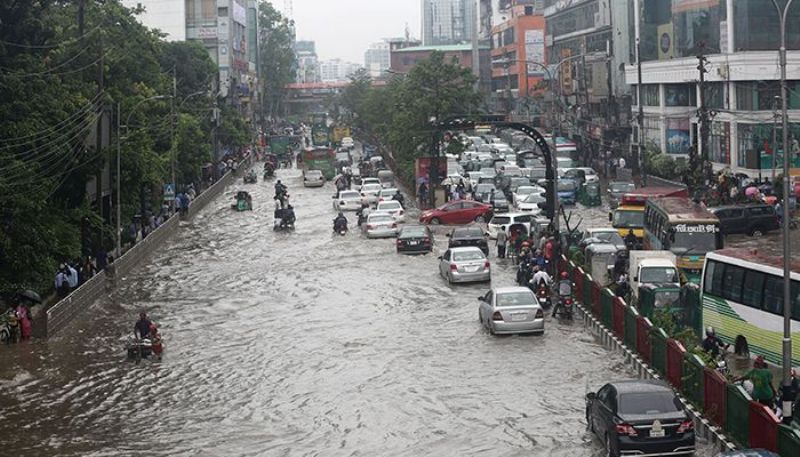 Collected
Heavy rains lash Dhaka, announces the arrival of monsoon
Dhaka, June 12: It rained heavily in the capital today. The sky in Dhaka was cloudy since morning. It started drizzling in the afternoon. Before 11 o'clock the whole sky was covered with dark clouds. Then it started raining. Heavy rain continued for more than an hour.
Even though monsoon has not yet arrived yet, it has started raining. Meanwhile, southwest monsoon winds has spread across the country. The Meteorological Department said that there will be rain all over the country on Monday under the influence of fairly active monsoon.
Earlier, the heat wave started on May 29. That heat wave continued until June 10. But with a break in one day, the heat wave started again in different parts of the country. However, the Meteorological Department said it would disappear on Monday.
In the last 24 hours from 6 am on Sunday to 6 am on Monday, there has been more or less rain in all the divisions except Dhaka division. But Khulna division was almost rainless. During the last few days, the trend of rain in Chittagong was high. Sitakunda received the highest rainfall of 117 mm in the country.
Meteorologist Md. Bazlur Rashid said that southwest monsoon has spread in Bangladesh. Monsoon is fairly active over Bangladesh and weak to moderate over North Bay of Bengal. Highlighting the weather forecast for the next 24 hours from 9 am on Monday, he said that many places in Rangpur, Rajshahi, Dhaka, Mymensingh, Khulna and Sylhet divisions and some places in Chittagong and Barisal divisions may experience rain with gusty winds or rain with thunder. Along with this, moderate to heavy rainfall may occur in some parts of the country. Day and night temperatures may drop slightly across the country during this time.
A mild heat wave is moving over Khulna division including Rajshahi and Pabna districts and may subside. However, Bazlur Rashid also said that the temperature may increase in the next three days.