Bangladesh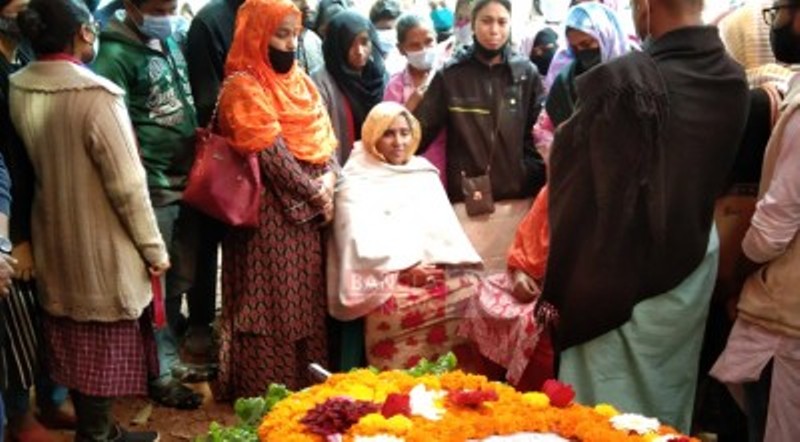 Collected
Himel buried after university assures compliance
Dhaka, February 2: Rajshahi University (RU) student Mahbub Habib Himel killed in truck crash. University Vice-Chancellor Prof Golam Sabbir Sattar has assured the agitated students to accept the six-point demand.
After his assurance, Himel's body was taken to his village home in Sherpur after the first janaza prayers on campus. He was buried next to his father's grave after another janaza.
According to the vice-chancellor, the university administration has already handed over five lakh taka to Himel's family. The victim's family will be further assisted step by step. Himel's mother's lifetime medical expenses will be borne by the university. The university will also pay for the treatment of the two injured students. The first janaza prayer of the student was completed on Wednesday (February 2) at 11 am at the central mosque ground of the university.
Earlier, the Vice-Chancellor assured the students, "I understand how heavy the body of a child is on the shoulders of a father. Today my body was supposed to be on Himel's shoulder. I will always try to be by his side."
Meanwhile, five lakh taka has been transferred to the bank of Himel's mother. "We will sit down with the university's finance committee and do whatever it takes," he said. I will collect maximum compensation from the truck owner and contractor."
Student Mahbub Habib Himel was killed in a truck accident near the Science Building under construction in front of Habibur Rahman Hall of the University at around 9 pm on Tuesday. In the incident, Himel's angry classmates set fire to several trucks of the university at night. At the same time, they joined the movement demanding justice for the murder. The Dhaka-Rajshahi highway was blocked overnight.
The six-point demand of the students is- the family of the deceased has to pay Tk 10 crore as compensation; University authorities must properly investigate the incident; Removal of proctor and proctorial bodies; Arrest everyone involved, including the truck driver; Enclosing external entrances to the campus and repairing the roads and gates of the campus and providing adequate lighting.