Bangladesh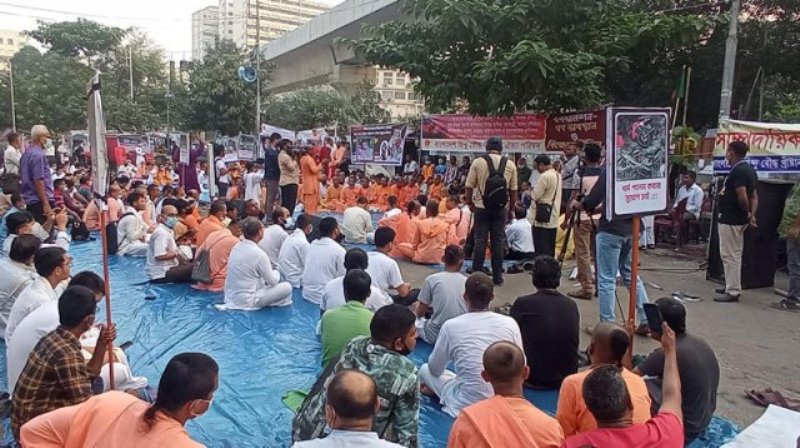 Collected
Hindu Buddhist Christian Unity Council hold mass protest in Shahbag in protest of Durga puja attack
Dhaka, October 23: Bangladesh Hindu Buddhist- Christian Unity Council held a mass sit-in program in protest of the recent attacks on Hindus during Durga Puja in different parts of the country, including Noakhali, Comilla and Rangpur. The organization is holding a sit-in program at the Shahbagh National Museum premises from 6:00 am on Saturday (October 23).
Hasanul Haq Inu, former information minister and leader of the Jatiya Samajtantrik Dal (JSD) faction, expressed solidarity with the stand-off program of the Bangladesh Hindu-Buddhist Christian Unity Council at 7:00 am.
"The recent attacks of fanatics, militants and terrorists were planned," he said in the sit-in. "The attackers wanted to provoke Hindu-Muslim communal riots. The riot was not possible due to the intervention of the Muslim community and law enforcement forces in Bangladesh."
Appearing at the rally, Robaet Ferdous, a professor in the Department of Mass Communication and Journalism at Dhaka University, said, "Hindus have not been attacked for insulting the Quran. Rather, the Quran was left in the marquee for the purpose of attacking them. This time the incident reminded us not only to protest, but also to build resistance."
Neem Chandra Bhowmik, Acting President of Bangladesh Hindu-Buddhist-Christian Unity Council, presided over the mass mobilization program.
Meanwhile, the Hindu Buddhist Christian Unity Council started a mass hunger strike at Shahbagh in the capital from 6:00 am on Saturday. Later, they took position on the road at Shahbagh junction around 11:30 am. During this time there was severe traffic jam on various roads in the vicinity.
"We demand punishment for those involved in communal terrorism and torture," Mahamantra Kiptan Das, a priest at the Swamibagh ISKCON temple in Dhaka, told Jago News. "Mass hunger strikes and demonstrations are going on all over the country today. We will continue to hold peaceful rallies until the demands are met."