Bangladesh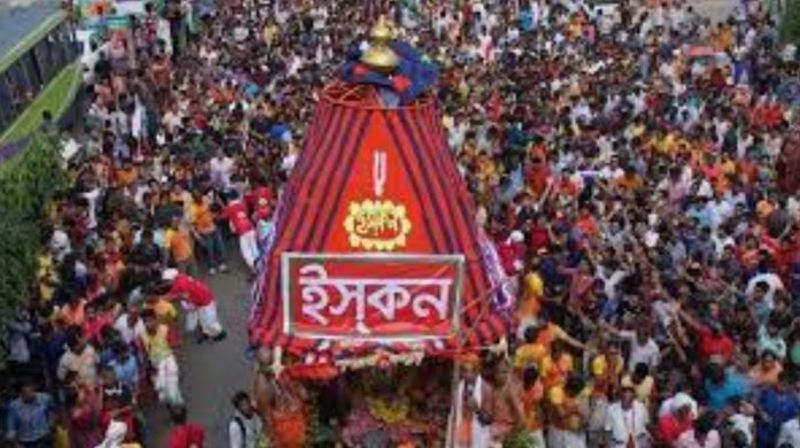 Collected
Hindus celebrate Rath Yatra after two years
Dhaka, July 1: One of the traditional religious festivals of the followers of traditional religions, the traditional rath yatra has started today. Many formalities, including the historic chariot parade, were canceled last year due to a widespread coronavirus infection. This time, as there are no restrictions, extensive preparations have been made by various religious organizations, including the International Society for Krishna Consciousness (ISKCON).
These programs include joyous processions, kirtan, recitation from the Holy Gita and various other events. Concerned people hope that there will be a large crowd in this chariot ride. Meanwhile, strict security measures have been taken to avoid any untoward incidents centered on the chariot ride. In the morning, a large number of policemen went to perform their duties in front of the ISKCON temple and Jagannath Dev temple at Swamibagh in the capital.
Rath Yatra was held this afternoon at the initiative of Sri Sri Jagannath Jiu Thakur Temple in the capital. The procession passed through Tantibazar Jagannath Deb's temple, Shivmandir, Babubazar Police Outpost, Victoria Park, English Road and reached Tantibazar Jagannath Deb's aunt's house. This procession starts on the second day of Shuklapaksh of Chandra Ashar every year. The reverse rath yatra will be held at the end of nine days. As such, the reverse rath yatra festival or re-yatra ceremony will be held on July 9.
Rathyatra is known by different names in each region. Rathyatra of Jagannath Deva was introduced from the temple of Jagannath Deva in Puri. The subcontinent is known as Yashomadhab's Rathyatra at Dhamrai on the outskirts of Dhaka.
The 351st historical chariot festival of Sri Sri Yasomadhab Deva of Dhamrai, the second largest in the world and the largest in Asia, has started today. Its activities will start with the official inauguration following the religious rituals. Rathmela will continue throughout the month.