Bangladesh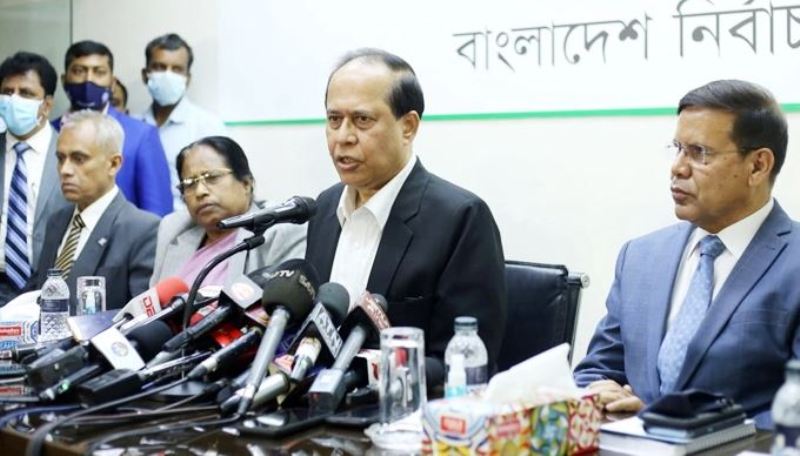 Collected
Hope all parties will come to the polls and consolidate democracy: CEC
Dhaka, February 28: Chief Election Commissioner Kazi Habibul Awal has said that he hopes that all parties will come together to consolidate democracy in Bangladesh.
"We hope that everyone will take part in the elections and consolidate democracy. The commission has a responsibility to create a conducive environment for those who will vote," he said at a press briefing at the media center of the election building on Monday (February 28).
The CEC said on Sunday, February 27, "We have taken the oath. We were appointed the day before. The (first) meeting we had today was an introductory one. The Secretary has informed us about the scope of work of the Commission. That is why we have thanked him."
"We are not very experienced," he said. "I'm brand new. However, I have seen the news of the election in the media. I have observed the election sitting in the house. Though somewhat opaque, there is an idea. We will be responsible for the election with integrity. We will be able to assess later how honest we were in carrying out our duties. We hope that everyone will take part in the elections and consolidate democracy. It is the responsibility of the Commission to create a conducive environment for those who choose. I did not decide what the procedure would be. But I have gained some knowledge to know. I have tried to fulfill my responsibilities as per the constitutional oath."
"Elections are a huge undertaking, especially national elections. Where political parties have an interest. Everyone's emotions are to be understood. Political parties have a role to play in making elections fair. There are many (party) workers in the election, there is a responsibility to be fulfilled. You don't have to leave the field, you have to stay on the field. Ukraine's President Zelenskyy could have fled, but he stayed and is putting up a resistance against Russia," he added.
Kazi Habibul Awal said, "There are some scuffles in the election contest. As for the law enforcement agencies, we will try our best to fulfill the responsibilities assigned to us according to our capabilities and skills."
He said, "At the moment, I do not want to talk about the faults of the previous commission. If there is any instruction, we will work to correct it."
Regarding the BNP's confidence in organizing the elections, Kazi Habibul Awal said the Election Commission does not hold elections for the party government. But there must be a government.