Bangladesh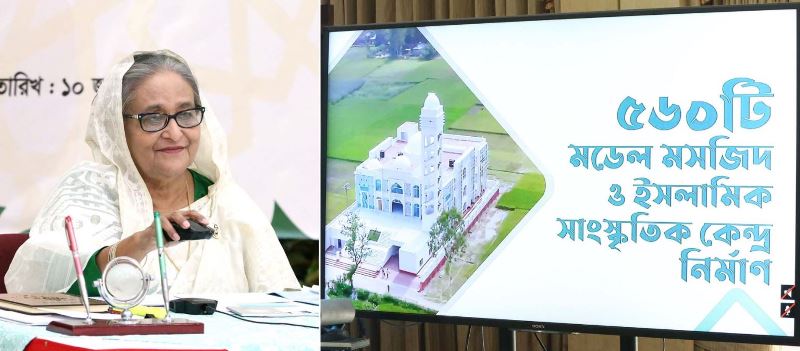 PID
I believe in Islam of justice, not uniform: Sheikh Hasina
Dhaka, June 10: Prime Minister Sheikh Hasina said religion cannot be blamed for actions of some people.
"A handful of people blame Islam for terrorism and militancy. Wherever I have been in the world, I have said in all forums that religion cannot be blamed on the actions of some people," she said.
At the time, quoting Bangabandhu, the Prime Minister said, "We believe in the Islam of justice, not uniform."
The Prime Minister said it at the inauguration ceremony of 50 of the 560 model mosques under construction across the country on Thursday (June 10th).
"Muslims were the guide in everything. Why are they lagging behind today? This model mosque and Islamic cultural center will help Muslims acquire the correct knowledge of Islam and will help them to know their history and heritage. Here they will be able to know and learn the main thing," the Prime Minister said.
The inaugural function was attended by Prime Minister Sheikh Hasina from Ganobhaban, officials of the Ministry of Religion from Osmani Memorial Auditorium and local MPs, government officials and devotees from Khulna District Sadar, Badarganj in Rangpur and Surma Upazila Sadar in Sylhet.
"We are building 560 model mosques across the country. I am inaugurating 50 of them today. From this mosque, people can learn the basics of Islam," Prime Minister Hasina said.
"We want everyone to be aware of Islam. Islam has given women rights. Gave women the right to the property of the father and husband. This mosque also has arrangements for men and women prayers. Through this, people should be made aware against child marriage, abuse of women and children and drugs from a religious point of view. We have to work socially united to prevent these," she said.
"We have come to power and made arrangements so that Hajj pilgrims do not have any problem. Whenever I go on Hajj, I inquire about our Hajj pilgrims. I also talk to the government of Saudi Arabia and resolve them. Hajj pilgrims no longer have to suffer. I have the opportunity to complete various activities including immigration at the Ashkona Hajj Camp at Dhaka Airport. We have set up a Hajj office in Jeddah so that travellers do not face any problems," she added.