Bangladesh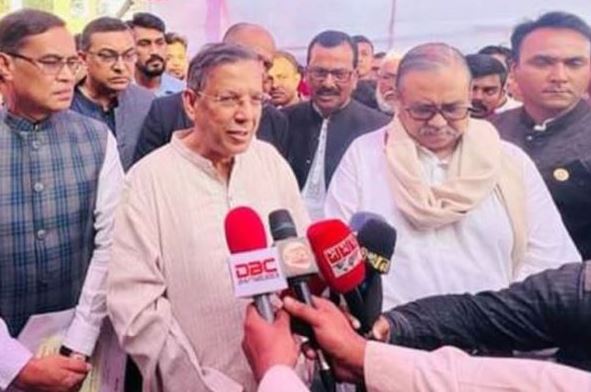 File Picture
I have seen a flood of blood in 1971 so I am not afraid of anything today: Law Minister
Dhaka, 12 February 2023 : Law Minister Anisul Haque said that in 1971 he had seen a flood of blood.
"So I am not afraid of anything today. As long as there is life in our hearts, we will talk about the liberation war and protect the country. what will happen," he said.
He said this while addressing the chief guest at the unveiling ceremony of the extended edition of the book 'Mohanganj, Maheshkhala Youth Camp and Doctor Akhlakul Hossain Ahmed' organized by Doctor Akhlakul Hossain Ahmed Memorial Trust at Netrakona's Mohanganj Municipal Auditorium on Friday night.
"At this time, the minister also said that the leader of Bangabandhu, Sheikh Hasina, does what she says for the development of the country. Awami League cherishes the spirit of liberation war and patriotism in its heart. And this is why Sheikh Hasina's government is making the impossible possible for the development of the country," he said.
Regarding the development of the current government, the law minister said that there have been many domestic and foreign conspiracies regarding the construction of the Padma Bridge.
But ignoring all the conspiracies today, under the strong leadership of Sheikh Hasina, we have built the Padma Bridge with the country's money. Not only that, the Prime Minister said, not a single person of Bangladesh will remain landless and homeless. For this purpose, our government is building a house with space for every landless family in the country.
In the unveiling ceremony held under the chairmanship of Justice Obaidul Hasan of the Appellate Division of the Supreme Court of Bangladesh, Asim Kumar Ukil, Member of Parliament of Netrakona-3 Constituency, Sheikh Hasina University Vice-Chancellor Professor Dr. Golam Kibria, former senior secretary of Prime Minister's office Sajjadul Hasan, General Secretary of Doctor Akhlaqul Hossain Memorial Trust Saiful Hasan, Netrakona Deputy Commissioner Anjuman Khan Majlish, District Sessions Judge Md. Shahjahan Kabir, Netrakona Zilla Parishad Chairman Bir Muktijoddha Asit Sarkar, Netrakona Municipal Mayor Nazrul Islam Khan, Jubo Mahila League General Secretary Professor Apu Ukil, Netrakona District Awami League President Advocate Amirul Islam, General Secretary Advocate Shamsur Rahman Liton, Zilla Muktijoddha Sangsad Commander Bir Muktijoddha. Nurul Amin, President of Mohanganj Upazila Awami League and Municipal Mayor Latifur Rahman etc.