Bangladesh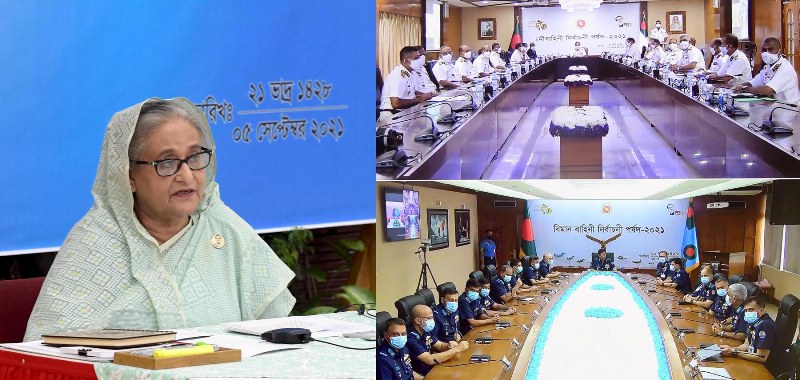 PID
I'm Sheikh Mujib's daughter, not a ruler, I'm a volunteer: PM Hasina
Dhaka, September 6: Prime Minister Sheikh Hasina has said that she is not a ruler, but a volunteer and servant of the people of Bangladesh. "I am the daughter of Father of the Nation Bangabandhu Sheikh Mujib. I am not just a ruler, I am a servant of the people of Bangladesh. I think serving the people and doing welfare is the biggest task. I am working with that vow," the Prime Minister said.
She said this while participating in the Electoral Board (First Episode) 2021 of the Navy and Air Force on Sunday morning. The Prime Minister took part in the virtual meeting via video conference from Ganobhaban.
She said the Bangladesh Navy and Air Force have gained the status of a highly disciplined, efficient and professional force not only in the country but also in the international arena. Their self-sacrifice and conscientiousness have brought rare honor and dignity to Bangladesh, which has also brightened the image of Bangladesh abroad.
The Prime Minister thanked all concerned for standing by the people of Bangladesh Navy and Air Force in the coronavirus situation.
"It is everyone's responsibility to stand by the people in times of disaster. Our armed forces always do this. Whenever disaster strikes, ordinary people get their services," Prime Minister Hasina said.
"Those who are skilled in defending the independence and sovereignty of the country will get the responsibility of running every force after getting promotion and will take the country forward. As can be seen in many cases, many can show a lot of skill in performing their duties. Therefore, they should also be considered so that they are not neglected," she said.
Mentioning that Bangladesh is proud of its armed forces, the Prime Minister said, "Bangladesh will run with the ideals of Father of the Nation Bangabandhu Sheikh Mujibur Rahman and the spirit of the Liberation War. In the future, this country will be a developed and prosperous golden Bangladesh."
Expressing hope that the Armed Forces would be by the side of the people whenever needed in running the state, the Prime Minister said, "You will continue to serve the people as you are serving them."