Bangladesh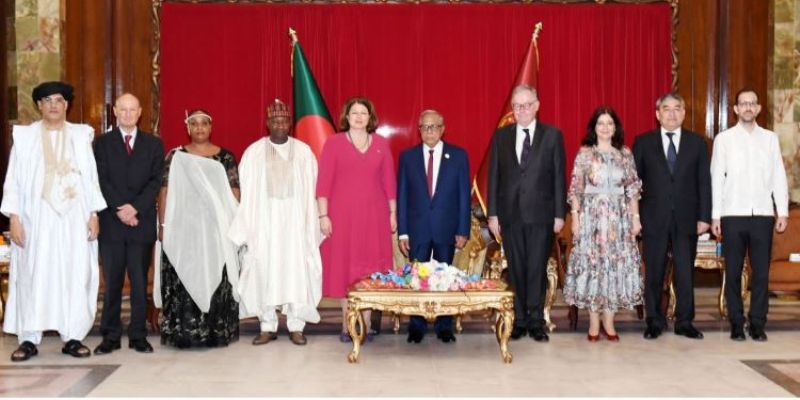 Photo: PID
Identity cards of 9 countries' envoys presented to the President
Own Correspondent, Dhaka, March 24: President Md. Abdul Hamid received the identity cards of nine envoys separately at the court hall of Bangabhaban on Wednesday. One of them is High Commissioner and the other eight are Ambassadors.
After the ceremony, President's Press Secretary Joynal Abedin said that all these envoys posted in Bangladesh are non-residents. They are Nigeria's High Commissioner Ahmed Sule and eight ambassadors, Estonia's Catherine Kiwi, Ireland's Brendon Ward, Rwanda's Mukangira Jacqueline, Romania's Daniela Mariana Sezonov, Mauritania's Mohamed Ahmed Salem Mohamed Rara, Argentina's Hugo Caviar Gobibi, Kazakhstan's Nurlan Zhalgasbayes, Dominican Republic's David Emanuel Puig Buchel.
Welcoming the new ambassadors, the President said Bangladesh has always maintained excellent relations with the countries. Referring to Bangladesh's foreign policy 'friendship with all, not hatred with anyone', President Hamid said Bangladesh attaches importance to developing relations with all countries of the world.
President Hamid hoped that the ambassadors would work for the development of their respective countries' relations with Bangladesh during their tenure. The President assured the Ambassadors of their full support in discharging their responsibilities in Dhaka to further strengthen Bangladesh's relations with their respective countries.
Secretary to the President's Office Sampad Bara-ya, Military Secretary Major General SM Salah Uddin Islam and Press Secretary Joynal Abedin were present on the occasion.
Earlier, a cavalry contingent of the President's Guard Regiment (PGR) presented the Guard of Honor to the newly appointed envoys as part of the ceremony when the envoys arrived at Bangabhaban. The envoys played the national anthems of their respective countries with the band of the army band and the envoys visited the guard.