Bangladesh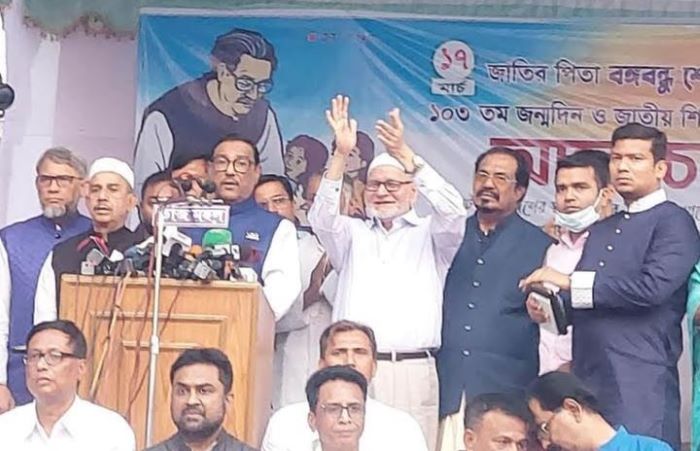 File Picture
If BNP comes to power then the country will become a sanctuary of communal power: Obaidul Quader
Dhaka, 19 March 2023 : General Secretary of Awami League and Minister of Road Transport and Bridges Obaidul Quader has said that Bangladesh will become a sanctuary of communal power if power is in the hands of BNP.
If corrupt people like them get power, the country will start again with murders, money laundering and other disturbances.
He said, 'BNP's two qualities are corruption and murder. Address of communalism is BNP. If power goes to BNP, the country will become a sanctuary of communalism. '
Obaidul Quader said these words at a discussion meeting organized by Dhaka Metropolitan South Awami League on the occasion of the 103rd birth anniversary of Father of the Nation Bangabandhu Sheikh Mujibur Rahman and National Children's Day at Dholaikhal in the capital on Saturday.
General Secretary of Awami League said that the corrupt BNP leaders do not listen to anti-corruption words. Sheikh Hasina has saved the country from theft. Made politics corruption free and democratic.
He said, BNP Secretary General Mirza Fakhrul looks like a gentleman, but inside is poison and poison. You can lie so much. The best pathological liar, the best liar.
General Secretary of Awami League said that BNP is the champion of corruption 5 times in a row. They speak against corruption, which is ridiculous. No shame. World record for stealing votes. How can the leader of the political party lie?
Obaidul Quader said that if Sheikh Hasina had stolen the Padma Bridge, there would not have been a metro rail in Dhaka, and there would not have been an expressway. If Sheikh Hasina had stolen, there would have been no Karnaphuli tunnel in Chittagong. A hundred roads were not made in one day. Sheikh Hasina did not steal, she freed Bangladesh from theft and corruption from power politics.
He said that the people are suffering due to the crisis, so Sheikh Hasina is buying at high prices and giving goods at low prices. Food security has been increased so that there is no hardship during fasting. Not a single person will be homeless.
Obaidul Quader said, we are ahead in all aspects of Pakistan except atomic bomb. If you come to power, you will bankrupt the country again - I will not let that happen. Tarek will smuggle crores of rupees. This evil is the patron of communalism. The country will be in the hands of militants. Urging BNP to participate in the next election, the Awami League General Secretary said that if there is soil under the feet, it will prove it by coming to the election. You can't prove your popularity with empty noise. Come to the polls to prove it.