Bangladesh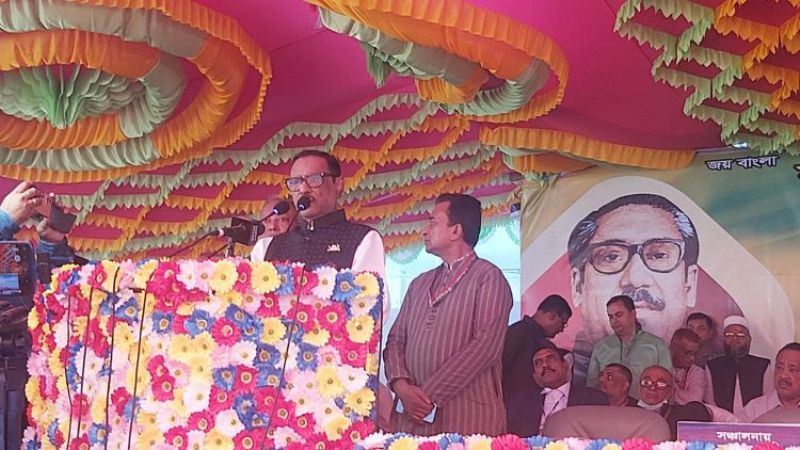 Collected
If BNP comes with sticks, we will be show them the real game: Obaidul Quader
Dhaka, December 2: Awami League General Secretary and Road Transport and Bridges Minister Obaidul Quader said, "We don't want to obstruct BNP's December 10 programme. But this time we will play. If they create a violent situation, create arson and come with sticks, then we will show them the real game."
He said these things in the opening speech at the district Awami League's triennial conference organized at the city park of Gopalganj city on Thursday (December 1).
At that time, Obaidul Quader said to BNP Secretary General Mirza Fakhrul Islam Alamgir, "Fakhrul has started drama now. Whenever there is a gathering somewhere, their drama starts. They have prepared pots and pans, sheets-pillows, carpets, blankets, rugs, They gathered there with mosquito coils. Still they say that the government is preventing them. Even in Comilla, no one has stopped them. We have told Rajshahi not to go on transport strike. We have also told the Dhaka rally that transport will continue. They will not be prevented from holding a rally in Dhaka. Prime Minister Sheikh Hasina has also told transport owners to not call a strike"
He also said, "We will see who wins in the election. There is no point in looking for the fall of the government. The situation in Bangladesh is still better than many countries. Bangladesh will be better as long as Sheikh Hasina is there. We need Sheikh Hasina's government again."
General Secretary of Awami League said, "BNP does not really believe in the liberation war. Honey in their mouth is poison in their heart."
Sheikh Fazlul Karim Salim, Presidium Member of Awami League and Member of Parliament of Gopalganj-2 Constituency, was present in the conference under the chairmanship of Gopalganj District Awami League President Chowdhury Emdadul Haque and moderated by General Secretary Mahabub Ali Khan. Bagerhat-1 Constituency Member of Parliament Sheikh Helal Uddin was present as the guest of honour. Awami League organizing secretary Mirza Azam was present as the main speaker. Apart from this, the party's organizing secretary SM Kamal Hossain, deputy office secretary Sayem Khan, MP Nargis Rahman of reserved women seat-25 and others were present as special guests.