Bangladesh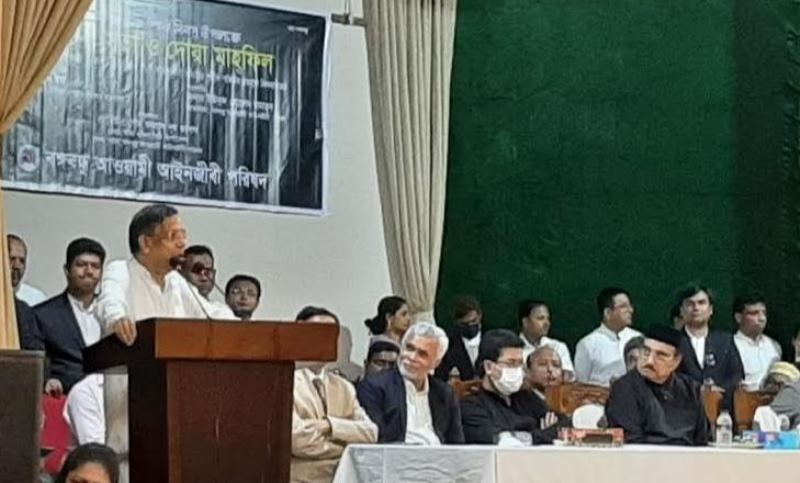 Photo: Collected
If Zia was alive, he would be an accused in Bangabandhu murder case: Law Minister
Own Correspondent, Dhaka, August 25: Law, Justice, and Parliamentary Affairs Minister Anisul Haque MP said that it does not need rocket science to prove that Ziaur Rahman was involved in Bangabandhu's murder. His actions proved that he was involved in this heinous killing. The Law Minister said Ziaur Rahman would have been accused in this case if he had not died.
He said these in his speech as the chief guest at the discussion meeting and doa mahfil organized by the Bangabandhu Awami Lawyers Association on the occasion of the 47th martyrdom anniversary and national mourning day of Father of the Nation Bangabandhu Sheikh Mujibur Rahman at the Supreme Court Lawyers Association Auditorium.
The law minister said that many people are now vocal about the formation of a commission to identify those who conspired in Bangabandhu's murder.
He assured that the commission will be formed in due course and the conspirators will be identified through it.
He said the conspirators are more or less identified. Commissions are required to document their activities.
He said this commission will not be formed as a 'witch hunting' or retaliatory measure. This commission will be formed to inform the new and future generations who were involved in the brutal killings that were carried out in 1975 to destroy the future of Bangladesh. Besides, this commission also aims to inform the new generation about whom they need to be careful.
Bangabandhu Awami Lawyers Council convener Senior Advocate Yusuf Hussain Humayun presided over the event, Dhaka South City Corporation Mayor Barrister Sheikh Fazle Noor Taposh, and others discussed the life ideals of Bangabandhu.
In the event, prayers were offered for the souls of the Bangabandhu family members who were victims of the brutal killings on August 15, 1975.