Bangladesh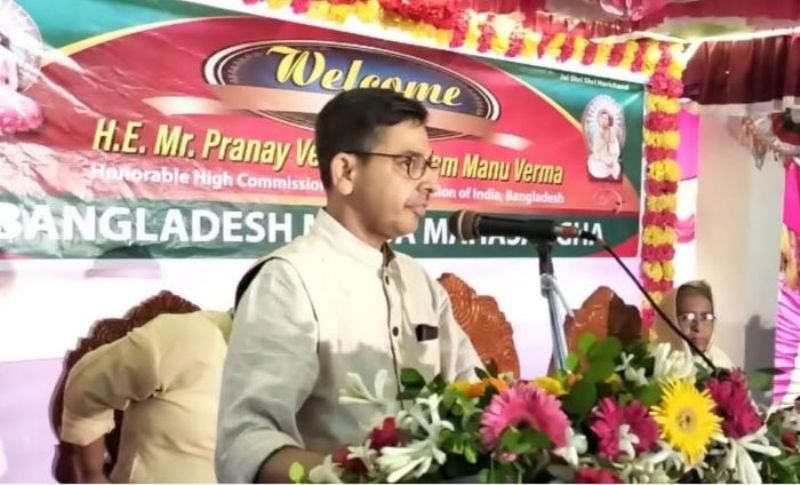 Collected
India always wants to be with Bangladesh in the progress of development: Pranay Verma
Own Correspondent, Dhaka, 10 August 2023: Indian High Commissioner in Dhaka, Pranay Verma, said that India always wants to be with Bangladesh in the progress of development.
He said, "Bangladesh and India are ideal friends. Geographically and culturally, the two countries have soul ties. Indian soldiers gave their lives in the Great War of Liberation. Since then, India and Bangladesh have blood relations and bonds. Therefore, India always wants to be by Bangladesh's side in the progress of development."
The High Commissioner said these things in his speech as the chief guest at the representative meeting of the Matua Mahasangha at Sridham Orakandi in Kashiani, Gopalganj on Wednesday.
The executive president of the organization, Kashiani Upazila Chairman Subrata Thakur, spoke at the representative meeting held under the chairmanship of Bangladesh Matua Mahasanghe Matua Mata Seema Devi Thakur and general secretary Sagar Sadhu Thakur. On this occasion, Matuacharya Amitabh Thakur and Matua Mahasangha President Devabrata Thakur were present.
When Indian High Commissioner Pranay Verma arrived in Sridham Orakandi, he was warmly welcomed by the Matua Mahasangha. He then visited Harichand Temple and Guruchand Temple. After paying obeisance at the Harichand-Gurchand temple, he joined the Matua representative meeting. He then exchanged greetings with the members of the Thakur family of Orakandi. Later he left Orakandi for the tomb of Father of the Nation Bangabandhu Sheikh Mujibur Rahman at Tungipara in Gopalganj.
It should be noted that on March 27, 2020, Indian Prime Minister Narendra Modi visited Sridham Orakandi in Kashiani Upazila of Gopalganj. Then he performed puja at Harichand temple. Matua representatives attended the conference and delivered the speech of the chief guest. Later he interacted with the Thakur family.