Bangladesh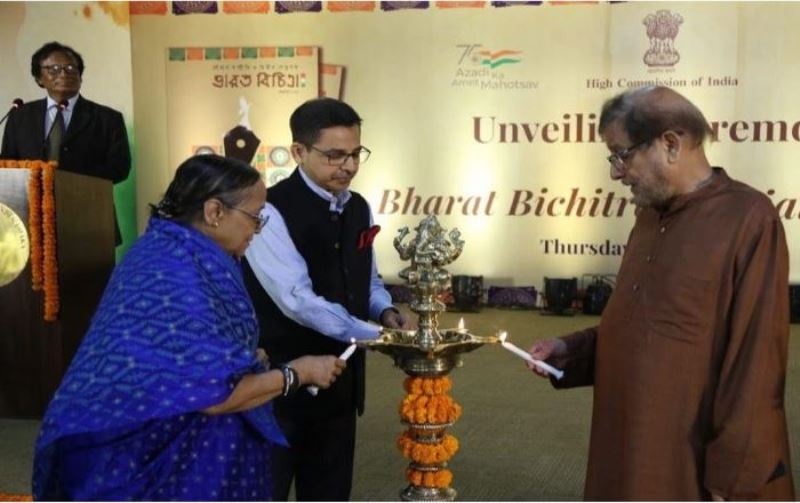 Photo: Collected
India considers Bangladesh first in neighbourhood policy: Pranay Verma
Dhaka, April 7: Indian High Commissioner to Bangladesh Pranay Kumar Verma said that the current bilateral relationship between Bangladesh and India is complementary to mutual development while New Delhi considers Dhaka first in its neighbourhood policy.
He said, "Our bilateral relationship today is truly multi-faceted and complementary to mutual development."
The Indian ambassador said this at the unveiling ceremony of the special edition of 'Bharat Bichitra' on the occasion of its golden jubilee at the Indian High Commission on Thursday.
Verma said that India and Bangladesh are enjoying such a wonderful relationship, 'the best pair in the world.'
He said, "India gives the highest priority to relations with Bangladesh... As we often say, for us neighbor first, actually neighbor second... Bangladesh first."
The High Commissioner pointed out that when India became the President of the G20, New Delhi invited Bangladesh as a special guest country to participate in the discussions of that important multilateral platform.
He said, "We believe that Bangladesh's success story in contributing to global development, facing various global challenges, overcoming adversity and achieving progress will be heard on the world stage and others can learn important lessons from it."
Verma said that New Delhi by inviting Bangladesh as a special guest country for the G20 is not only honoring a very important friend of India but also celebrating partnership and friendship.
He said that since 1971, Bangladesh and India together have become the fastest growing economies in the world today.
The High Commissioner said that the leaders of our two countries have great commitment to take Bangladesh-India relations to new heights.
He said, in these 50 years, 'Bharat Vichitra' has captured all the important moments and milestones of India-Bangladesh relations and has been the source of all emotions and mutual sympathy.
He said that 'Bharat Vichitra' is a valuable platform for cultural exchange with Bangladesh and to enhance India's position among the people of Bangladesh.
MP Asaduzzaman Noor, Bangla Academy president writer Selina Hossain and director general poet Mohammad Nurul Huda among others spoke on the occasion and several prominent poets recited poems on the occasion.