Bangladesh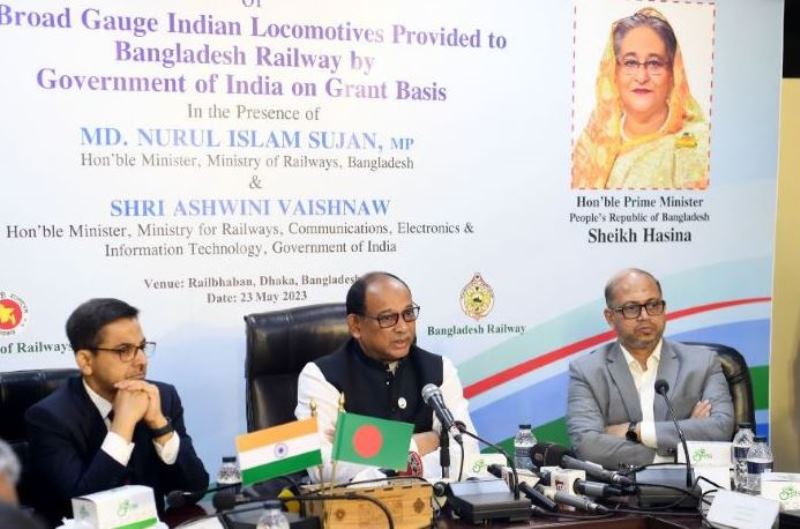 Photo: PID
India hands over 20 broad gauge locomotives to Bangladesh
Dhaka, May 23: India on Tuesday virtually handed over 20 Broad Gauge (BG) diesel locomotives to Bangladesh as part of further strengthening of bilateral ties.
India's Railway Minister Ashwini Vaishnab attended the handover ceremony virtually from Rail Bhawan in New Delhi on Tuesday afternoon. On the other hand, Railway Minister Nurul Islam Sujan joined from Bangladesh. Indian Railway Board Chairman and CEO AK Lahoti, other board members, senior officials of Railway Board and representatives of Bangladesh were also present on the occasion.
By handing over these diesel locomotives with the grant assistance of the Government of India, India fulfilled an important promise made during Bangladesh Prime Minister Sheikh Hasina's visit to India in October 2019. As per the requirement of Bangladesh Railway, the Indian side has suitably modified these locomotives. Indian Railways sources said these locomotives will help Bangladesh handle the growing demand for passenger and freight trains.
In the event, Indian Railway Minister Ashwini Vaishnab said that India's relationship with Bangladesh is one of civilization, culture, social and economic harmony.
He said, "The prime ministers of the two countries are playing an active role in the development of bilateral relations in social, economic and political fields. Indian Railways is playing an important role in the development of trade between the two countries by improving and strengthening cross-border rail connectivity. Pointing out that five broad gauge links namely Gede-Darshana, Benapole-Petrapole, Sinhabad-Rohanpur, Radhikapur-Biral and Haldibari-Chilahati are operational, he further said that work on two more border rail links at Akhaura-Agartala and Mohihasan-Shahbajpur is progressing well. is underway and is likely to be completed and commissioned very soon.
Addressing the rally virtually, Bangladesh Railway Minister Nurul Islam Sujan expressed gratitude to the Indian government for their support and said that supply of locomotives will help improve both goods and passenger trains in Bangladesh. He also expressed hope that the existing cooperation between the two countries in the railway sector will increase day by day. In June 2020, Government of India donated 10 locomotives to Bangladesh.