Bangladesh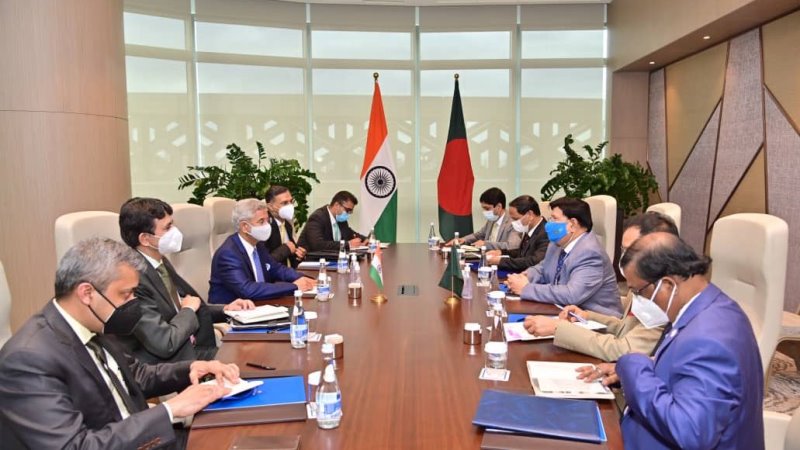 twitter.com/DrSJaishankar
India have assured Covid-19 vaccine supply, Russia and China ready for production in Bangladesh: AK Abdul Momen
Dhaka, July 20: Foreign Minister Dr AK Abdul Momen said that India have promised to resume export of coronavirus vaccine to Dhaka as soon as the Covid-19 situation improves there. Meanwhile, Russia and China are ready to supply the vaccine and produce it jointly with Bangladesh.
He made the remarks while exchanging views with the media on the outcome of separate bilateral meetings with Indian, Russian and Chinese foreign ministers on the sidelines of a communication conference in Uzbekistan on Monday.
Quoting Indian counterpart S Jaishankar, Momen said India will provide the vaccine as soon as the Covid-19 situation improves a bit in the neighbouring nation.
Momen, however, said the Indian foreign minister has not given a timeline as to when Bangladesh would get the rest of the 30 million dose of Oxford-AstraZeneca vaccine purchased from New Delhi.
He mentioned that Jaishankar had told him that India had never said that they would not export anymore vaccines to Bangladesh.
The Foreign Minister further said that the Indian External Affairs Minister expressed his satisfaction that Bangladesh was getting vaccines from different countries under the COVAX agreement.
Until India suspended vaccine exports in March, Bangladesh had received 1.2 crore vaccines from the Serum Institute of India (SII).
Regarding the meeting with Russian Foreign Minister Sergey Lavrov, Dr. Momen said that Moscow has agreed to jointly produce vaccines in Bangladesh in addition to supplying their coronavirus vaccine Sputnik to Bangladesh.
"Things are now in the final stages," he said.
However, Momen said that Russia would not provide vaccine production technology to Bangladesh under the joint production. Local pharmaceutical companies will only bottle the vaccine.
Regarding the meeting with Chinese Foreign Minister Wang Yi, Dr. Momen said that they discussed the supply of vaccines in Bangladesh and the joint production of corona vaccines in the country.
During the meeting, Wang confirmed that Bangladesh will receive another 1 million doses of the Sinopharm vaccine as gift. This is in addition to the 1.1 million doses of vaccines by China as a gift to Bangladesh.
Dr Momen said the Chinese foreign minister had also informed him that two Chinese vaccine companies, Sinopharm and Sinovac, were ready to jointly produce vaccines with Bangladeshi pharmaceuticals companies.