Bangladesh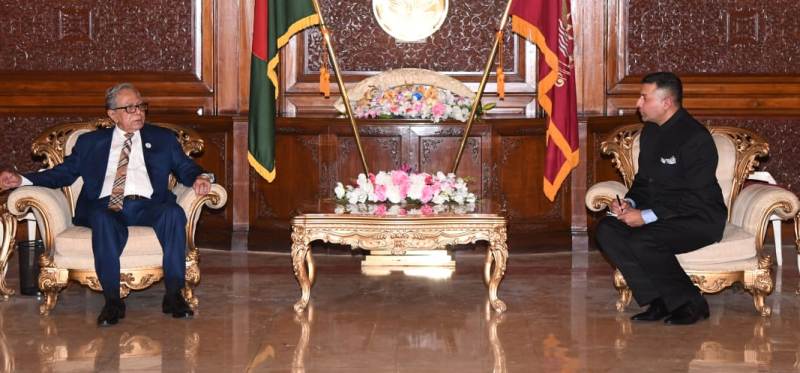 twitter.com/ihcdhaka
Indian High Commissioner Doraiswamy presents his credentials to President Hamid
Dhaka, 9 October: Newly appointed High Commissioner of India Vikram Kumar Doraiswamy on Thursday presented his credentials to President Md. Abdul Hamid at the Bangabhaban.
Welcoming the newly appointed High Commissioner, the President said India is not only Bangladesh's closest neighbour but also a loyal friend.
Recalling India's cooperation in the 1971 Liberation War, the President said India's relations with Bangladesh is very good. This relationship has expanded beyond the diplomatic sphere to trade, investment, education, culture and more.
The President hoped that the newly appointed High Commissioner would make every effort to use every potential field for the development of relations between the two countries.
The President assured the Indian High Commissioner of his full cooperation.
Noting that India attaches great importance to the development of relations with Bangladesh, Doraiswamy said that Bangladesh will get the coronavirus vaccine produced in India in time.
He sought the full cooperation of the President during his tenure as High Commissioner of India.
Sampad Barua, Secretary to the President's Office, Military Secretary Major General SM Shamim Uz Zaman, Press Secretary to the President Md. Joynal Abedin, Foreign Secretary Masood bin Momen and Secretary to the President's Office (Joint) Md. Wahidul Islam Khan was present at the time.
Earlier, when the Indian High Commissioner reached Bangabhaban, a vigilante team of the President's Guard Regiment presented him with a Guard of Honor.