Bangladesh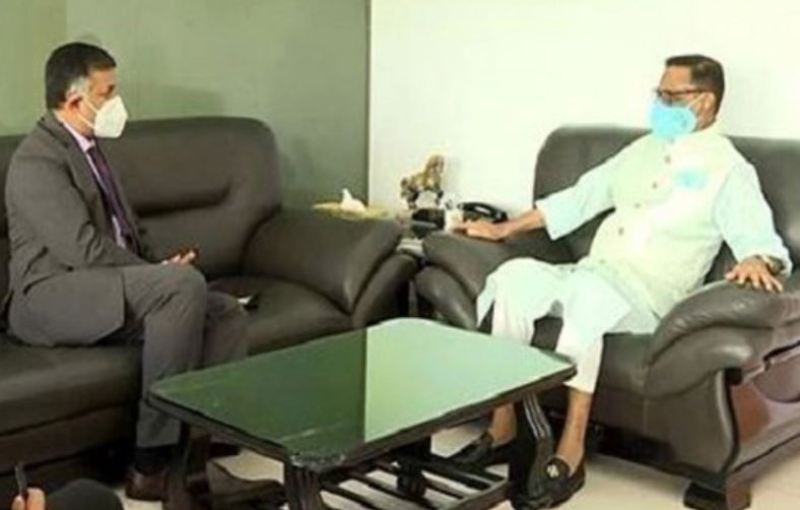 Photo: Collected
Indian High Commissioner holds meeting with Obaidul Quader
Own Correspondent, Dhaka, July 15: Indian High Commissioner to Dhaka Vikram Kumar Doraiswami paid a courtesy call on Awami League General Secretary and Minister for Road Transport and Bridges Obaidul Quader. The meeting was held at the office of the Minister of Road Transport and Bridges on Thursday morning.
During the meeting, the progress of various development projects under the Ministry of Road Transport and Bridges under the LoC was discussed.
Meanwhile, Indian High Commissioner in Dhaka Vikram Doraiswami is going to take charge of his country's mission in the United Kingdom. Vikram Doraiswami joined as Indian High Commissioner in Dhaka on October 5, 2020. He presented his identity card to the President on October 8 of the same year. Doraiswami succeeded Riva Ganguly Das in Dhaka. This time Doraiswami will succeed Gayatri Isha Kumar in London.
Pranay Kumar Verma is coming to Bangladesh as the next High Commissioner of India. Pranay Kumar Verma is currently serving as India's Ambassador to Vietnam. He was appointed as Ambassador to Vietnam on July 25, 2019. In 1994, he joined the Indian Foreign Service. He has worked as an Indian diplomat in Hong Kong, San Francisco, Washington DC and Kathmandu.