Bangladesh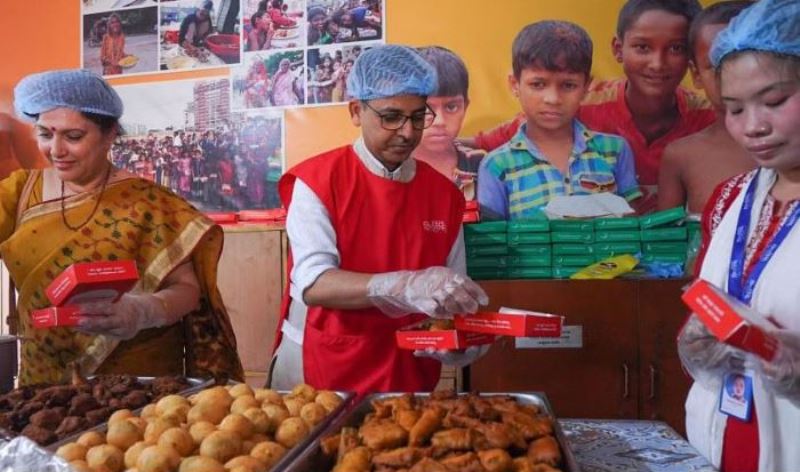 Photo: Collected
Indian High Commissioner visits Bidyanondo Foundation
Dhaka, April 21: Indian High Commissioner in Dhaka Pranay Verma and his wife Manu Verma visited private voluntary organization Bidyanondo Foundation. He visited the foundation in Dhaka on Thursday (April 20) on the occasion of the holy month of Ramadan and the upcoming Eid.
During this time they provide food items, books and gifts to the underprivileged children. In his speech, the High Commissioner highlighted the essence of humanity, compassion and support for each other as the main message of the Eid festival. He appreciated the activities of Bidyanondo Foundation for improving the lives of underprivileged children.
Besides, the High Commissioner encouraged the children to learn about the long-standing friendship between Bangladesh and India established on the basis of joint sacrifice in the 1971 Liberation War.
Meanwhile, Benapole, the country's largest land port, will be closed for five consecutive days on the occasion of the Holy Shaba al-Qadr, weekend holidays and Eid-ul-Fitr. During this time, operations of ports and customs along with import and export are closed.
According to C&F agents and port sources of the two countries, port and customs activities including import and export between the two countries will be closed on Wednesday, the holy Shaba al-Qadr holiday, Thursday as a government holiday by executive order, April 21 and 22 weekly holiday and April 23 Eid-ul-Fitr holiday. Import-export operations will start from Monday (April 24) morning.
Abdul Jalil, Deputy Director of Benapole Port, said that the security system has been strengthened to prevent any kind of vandalism or unpleasant incident at the port during the holiday. The port's own security forces and Ansar members will patrol the port area during the day.