Bangladesh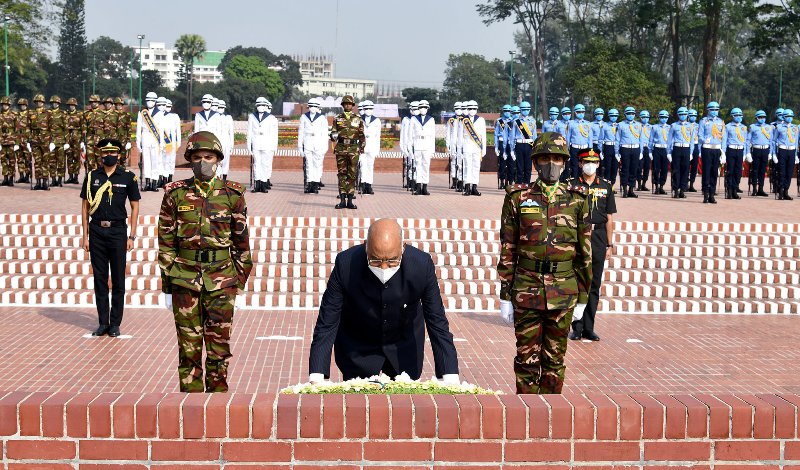 PID
Indian President Kovind pays homage to martyrs at National Memorial
Dhaka, December 16: Visiting President of India Ram Nath Kovind paid homage to the memory of the martyrs who gave their lives in the great war of liberation at the National Memorial in Savar. On Wednesday (December 15) at around 1:15 pm, the President of India paid his respects by laying a wreath at the memorial. Then he stood there in silence for a while. At that time a group of armed forces paid homage to the martyrs in military style. The sad melody of the bugle sounded. The President of India then signed the visitor's book and planted a sapling.
Arindam bagchi, the official spokesperson of India's Ministry of External Affairs said that President Kovind wrote: "May the spirit of those who sacrificed their lives to realise the ideals of the Liberation War continue to guide our thoughts and actions," while signing the visitor's book.
The Indian President was accompanied by his wife and Indian First Lady Sabita Kovind and their daughter Swati Kovind, as well as Liberation War Affairs Minister AKM Mozammel Haque and Agriculture Minister Abdur Razzak.
The Indian President arrived in Dhaka at 11:20 am on Wednesday (December 15) on a three-day visit to take part in a special event to mark the centenary of Mujib's birth and the golden jubilee of Bangladesh's victory in the war of liberation.
India's Education Minister, two MPs, Foreign Secretary of India Harshvardhan Sringla and few senior officials are touring alongside Kovind, his wife and their daughter.
The airport area was decorated with colorful decorations around the arrival of the President of India. A large number of Bangladesh-India flags have been hoisted above and in front of the terminal. Two large portraits of the two presidents are displayed on either side of the VVIP terminal. Above the terminal is written in large letters 'Welcome O Excellency Guest'.