Bangladesh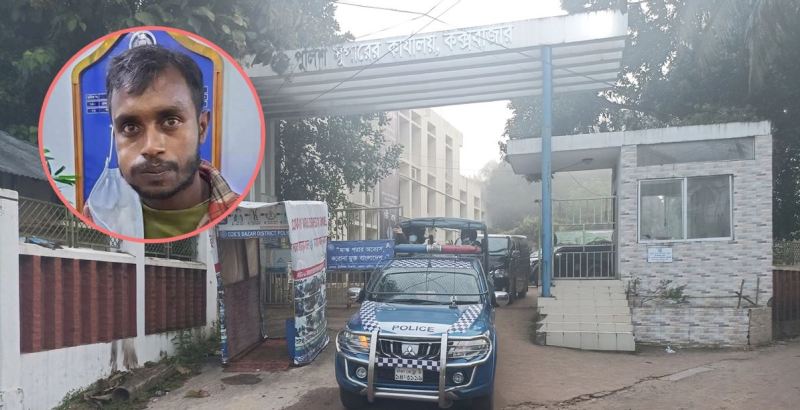 Collected
Iqbal Hossain: Perpetrator who kept holy Quran in Comilla Hindu marquee arrested
Dhaka, October 22: Police have arrested a man from Cox's Bazar on suspicion of keeping the Holy Quran in a puja mandapa in Comilla. The youth was arrested from Sugandha Point on the beach around 10:15 pm on Thursday.
On Thursday (October 21) night, Cox's Bazar District Superintendent of Police (SP) Md Hasanuzzaman said, "We have arrested a man named Iqbal Hossain. the initial verification is going on. He is being handed over to Comilla police."
Comilla District Superintendent of Police Farooq Ahmed said the detainee was being brought to Comilla. If brought here, the details will be informed at the end of verification and.
Earlier on October 13, the marquee was attacked and vandalized for keeping the Holy Quran in a temporary puja mandapa at Nanua Dighirpar in Comilla. After watching the latest CCTV footage, the police identified the person who kept the Holy Quran in the puja mandapa. Police and detectives then started searching for the young man named Iqbal Hossain.
It is very clear in the CCTV footage how the accused Iqbal Hossain went to the mosque, got out, went to the marquee and returned from the mandapa with a mace in his hand. According to CCTV footage from an adjacent highrise, the man was first seen holding a Quran and then a mace.
Meanwhile, Deputy Inspector General of Police Chittagong Range Md Anwar Hossain said about the arrest of a young man named Iqbal Hossain, "We initially think that the arrested person is Iqbal of Comilla. He has been sent to Comilla to confirm his identity."
The two leading leaders of the Hindu community in Comilla said on condition of anonymity that they did not think Iqbal had any reason to do so. Some locals did not want a puja mandapa on the banks of Nanua Dighi. Among them is Md. Fayez, who made the first issue (live) on Facebook after the incident. There may be an intention to close the shrine permanently by doing something.
They both think that Comilla City Corporation election will be held early next year. Some may try to take political advantage of the election. Apart from this, there may be conspiracies as part of national and international politics. Which is the real truth, the police have to prove it credibly.