Bangladesh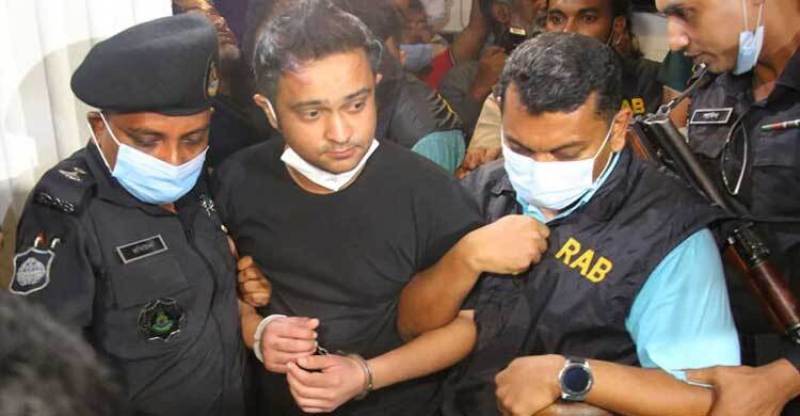 Irfan Salim in jail 4 hours after his release on parole
Dhaka, December 1: Irfan Selim, son of Dhaka-7 MP Haji Selim, has been remanded in custody after being released on parole for four hours. He was released on parole on Monday (November 30th) to attend the janaza and burial of his mother Gulshan Ara Selim.
Irfan Selim's mother Gulshan Ara Selim died at Dhanmondi Labaid Hospital in Dhaka on Sunday (November 29).
On Monday morning, Irfan Selim's relatives applied to the Home Ministry for his release on parole. After getting the approval of the Home Ministry, Irfan Selim was released on parole to attend his mother's janaza at 3.15 pm.
Mahbubul Islam of Dhaka Central Jail told reporters that Irfan Selim was released on parole at 3.15 pm. He was brought back to the jail at 7 pm.
Irfan was arrested after he assaulted a naval officer, Wasif Ahmed Khan, on October 25.
The incident took place near Kalabagan signal in the capital. Although there was a GD in the incident at night, a case was filed against seven people including Irfan, son of Haji Selim on the morning of October 26. Later in the afternoon, Irfan was arrested by RAB.
On the same day, RAB also conducted a raid on his house in old Dhaka.
The operation recovered 38 walkie-talkies, five VPS sets, a pistol with weapons, a single-barreled gun, a briefcase, a handcuff, a drone and seven bottles of foreign liquor and beer.
Irfan Selim and his bodyguard Zahid were sentenced to six months in prison each for possessing illegal walkie-talkies and six months for possession of foreign drugs.
Later they were sent to Dhaka Central Jail in Keraniganj.