Bangladesh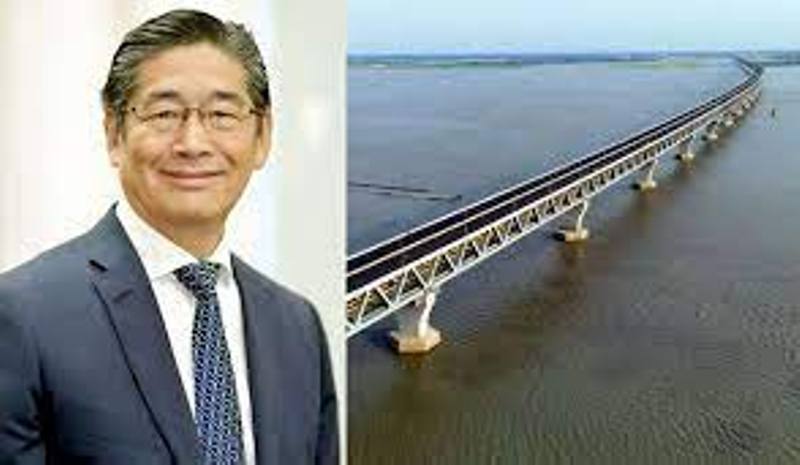 File photo
Japan keen to take part in second Padma bridge's construction
Own Correspondent, Dhaka, June 23: Japanese Ambassador Ito Naoko said his country is interested in participating in the ongoing efforts of the Bangladesh government to build the second Padma Bridge. He said this at a time when the first Padma Bridge has been built due to the foresight and political prudence of Prime Minister Sheikh Hasina.
He told reporters at his residence in the capital on Tuesday, "I am sure that the second Padma bridge will be implemented one day. The Japanese government and JICA will be considering the possibility of participating in the construction efforts of this government."
The ambassador said that at present the position of the Japanese government is "we will take the opportunity to offer our cooperation in the construction of the second Padma bridge of the Bangladesh government."
He said, "I am sure that this (Padma Bridge) will be very fruitful and successful. So, the second Padma bridge will be a reality."
Ito said Tokyo is ready to provide good technology if Bangladesh has the potential to participate in the construction of quality infrastructure. Japan has so far assisted in the construction of 134 small and large bridges across Bangladesh.
Congratulating the government and people of Bangladesh on the completion of the construction of the Padma Bridge, he said, "This Padma Bridge is an excellent milestone in the development journey of Bangladesh, and it has been completed with Bangladesh's own initiative and funding."
He termed the Padma Bridge as the dream and pride of the country. This is a great proof of what Bangladesh can do for its economic development and stability. He said that it will also fulfill the aspirations of the potential growth of Bangladesh.
The Ambassador said that 2022 will be a memorable year for Bangladesh by setting a precedent of inaugurating various standardized infrastructures including Padma Bridge and Metro Rail by the end of this year.
Recalling Prime Minister Sheikh Hasina's visit to Japan in 1996, Naoki said Hasina had requested Japan to co-operate on the Padma Bridge and the Rupsha Bridge.
The Ambassador said that the Japan International Cooperation Agency has carried out preliminary feasibility study of the Padma Bridge and constructed the Rupsha Bridge. "It is gratifying that Japan was able to be a part of this (Padma Bridge) project in a feasibility study," he said.
The ambassador, however, said it was unfortunate that JICA could not be part of the financing of the Padma Bridge despite the interest of the Japanese government.
He lauded Prime Minister Sheikh Hasina's bold decision to build the bridge with her own funds and said it was a clear demonstration of how much Bangladesh could do on its own.