Bangladesh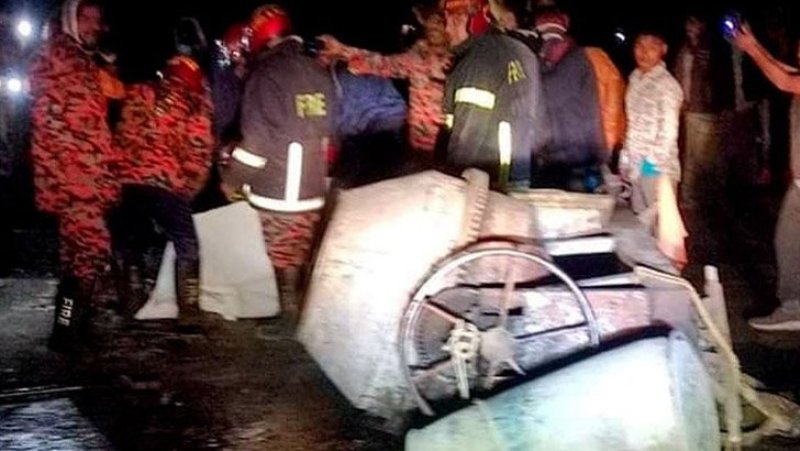 Collected
Jhenaidah: Seven people killed in Truck-Nasimon collision
Dhaka, January 14: Seven construction workers were killed in a head-on collision between a truck and a Nasimon at Shailkupa in Jhenaidah. Four others were injured in the incident which took place at 6:30 pm on Wednesday (January 13) at the Srirampur bus stand in Madandanga Bazar of Tribeni Union No. 1 in the upazila. The houses of the victims are said to be in Kalyanpur area of Jhenaidah Sadar upazila.
An eyewitness, Nazmul Hasan Sagar, a school teacher, said the victims were all construction workers. After work on Wednesday evening, 13 workers were on their way to Jhenaidah carrying sand and cement mixer machine in an engine-driven Nasimon. On their way to Madandanga Bazaar, a speeding truck coming from the opposite direction crushed them and overturned in a nearby ditch.
He added that the people in the area were terrified by the loud noise. They rushed to the spot and saw that everyone was scattered here and there.
Many have lost limbs. As a result, there was no way to recognize many. Upon receiving the news, the members of Shailkupa fire brigade reached the spot and rescued the injured and brought them to the hospital.
Azad Hossain, a UP member of Ward No. 9, who was present at the spot at 8 pm, said seven bodies have been recovered from the spot so far. The death toll could rise further.
Shailkupa Police Officer-in-Charge (OC) Jahangir Hossain, who was present at the spot, confirmed the casualties and said, "We reached the spot and rescued the victims and sent them to the hospital."
Meanwhile, Jhenaidah Fire Service Deputy Assistant Director Shamimul Islam put the death toll at seven.