Bangladesh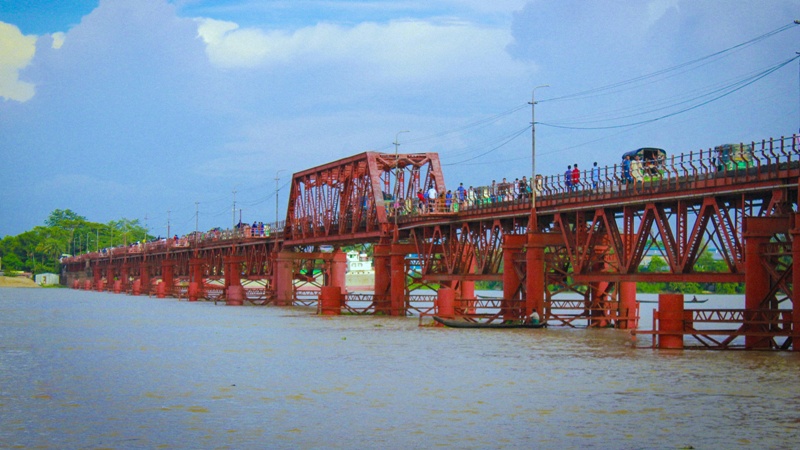 File photo/Wikimedia Commons/ShifayetH
Kalurghat bridge to be similar to Padma Bridge
Own Correspondent, Dhaka, July 7: A Korean company has prepared a preliminary design for the construction of a bridge over the Karnafuli River in the Kalurghat area at a cost of Tk 6,341 crore which will be built in the style of the Padma Bridge.
This was informed at a meeting held at the Chittagong Railway Eastern Headquarters CRB on Wednesday (July 6). The meeting was held on the progress of Kalurghat Rail Kam Road Bridge.
Eosin Engineering Corporation and Doha, a company hired by the state-owned Exim Bank of Korea, a potential donor to the bridge, presented a preliminary proposal to the Railways at the meeting on the location, design, cost and construction time of the bridge.
After the meeting, Jahangir Hossain, general manager of Eastern Railway, told reporters that according to the preliminary survey, the proposed design said the road would be paved at the top of the bridge. The railway line will be underneath. Both will be double lanes. The total length of the bridge will be 780 metres. Of this, 5.62 metres will be on the land outside the river. The length of each span will be 100 metres. The height of the bridge will be 12.2 metres. There will be eight pillars in total.
He said the proposed cost for the bridge has been estimated at Tk 6,341 crore. The organization responsible for the survey has informed us that they will submit the final report in August. Then there will be tender. We have been told that it will take about four years to complete the construction. It will take six to eight months to complete the tender. Then EDCF will provide funds. The final work will start as soon as the funds are given. Hopefully the work can be started next year.
After the meeting, Chittagong-8 (Boalkhali-Chandgaon) constituency MP Moshalen Uddin Ahmed told reporters that the Kalurghat bridge will be similar to the Padma bridge. In the two-level bridge, there will be two (Up and Down) railway tracks on the lower-level and a highway on the upper-level.
He said the Prime Minister came to inaugurate the third Karnafuli bridge in 2010. That day we held a public meeting at the CDA ground. There she announced that he would also build a new bridge at Kalurghat, in which cars and trains both can be operated.