Bangladesh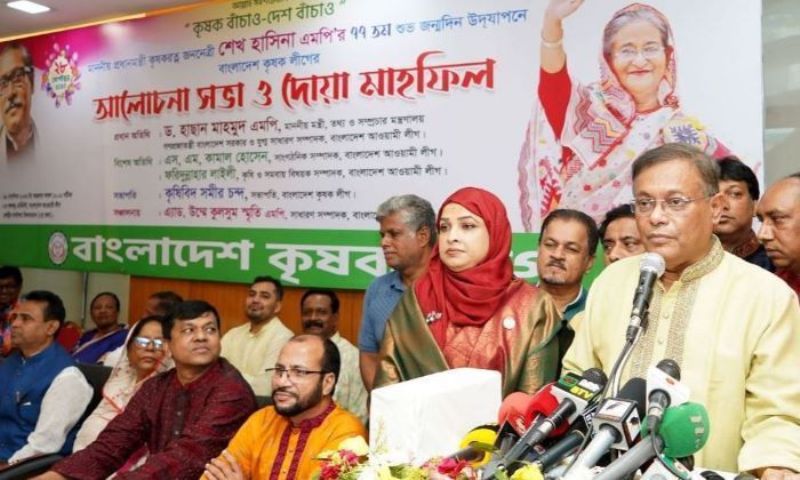 PID
Keep on jumping, Awami League will come to power again: Information Minister tells BNP
Own Correspondent, Dhaka, 30 September 2023: Information and Broadcasting Minister Dr. Hasan Mahmud said that BNP-Jamaat is seeking help from foreigners. Foreigners are giving them air. BNP-Jamaat is the third kid of the goat. Fakhrul Saheb jumps, Amir Khosru jumps. Along with Shyama Obaid, Nipun Roy also jumped. You keep jumping. Elections will be held on time. Awami League will come to power again in that election.
He said this while speaking as the chief guest at a discussion meeting and doa mahfil organized by Krishak League on the occasion of Prime Minister Sheikh Hasina's 77th birthday at Awami League's central office in the capital on Friday.
The information minister said, no one will put you in power by hand. There is no use going to foreigners every now and then. You will not be allowed to sit in power by feeding on your lap. People will not let that happen. Awami League will not allow that to happen.
About the next election, he said, it is good whether you come in the next election or not. By boycotting the elections in 2014, you thought Awami League would not be able to survive. But we stayed for five years. I won the 2018 election with huge votes. Awami League will come to power in the next election as well.
The Information Minister said that Sheikh Hasina never did politics for power, then she could have become the Prime Minister of the country in 1982. Not only Sheikh Hasina, Bangabandhu also never had greed for power. He turned down the offer to become the Prime Minister of Pakistan after the uprising.
Regarding the development of the country, the minister said, the country has now become less developed, poverty has reduced, in 2009 it was the 60th economy in the world, today it is the 31st. Bangladesh has left behind 25 countries. From the US President to the Government of India, the UN Secretary General has praised the development of Bangladesh.
Awami League Organizing Secretary SM Kamal Hossain, Awami League Secretary for Agriculture and Cooperative Affairs Faridunnahar Laili and others spoke at the event under the chairmanship of Samir Chandra, president of Bangladesh Krishak League and advocate Umme Kulsoom Smriti, general secretary of Krishak League.