Bangladesh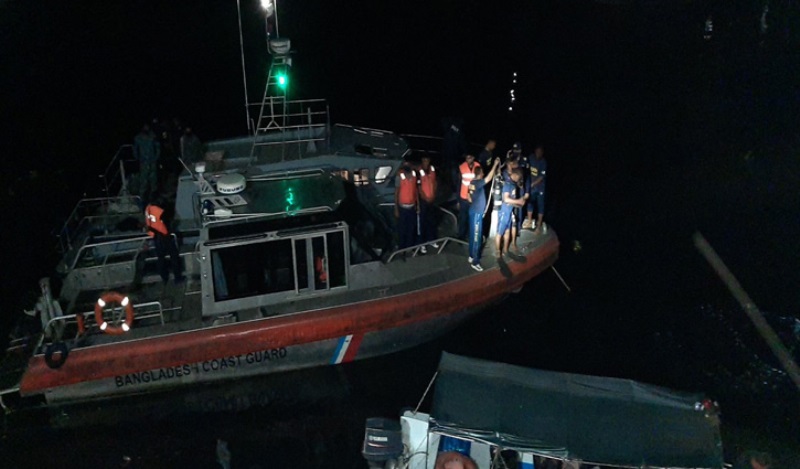 Collected
Launch capsizes in Narayanganj, bodies of five women recovered
Dhaka, April 5: The bodies of five people have been recovered after a passenger launch sank in the Shitalakkha river in Madanganj Ghat area of Narayanganj city. Narayanganj Sadar Upazila Nirbahi Officer Nahida Bari said this on Sunday night.
The names of the five women, aged between 35 and 40, were not immediately known. The launch, dubbed 'Sabit Al Asad', sank around 6pm, said Mubarak Hossain, deputy director of the BIWTA Narayanganj office.
Some of the rescued passengers have been brought to Munshiganj General Hospital for treatment, said Kabir Hossain, in-charge of Muktarpur Naval Station.
Citing the injured, the official said the launch had far more passengers than its capacity.
Mubarak Hossain said a passenger launch leaving Narayanganj for Munshiganj at around 6pm sank in a collision with a cargo ship named SK-3 near the third Shitalakkha Bridge under construction in Madanganj area. He said many passengers on the launch swam ashore.
Badiuzzaman Badal, senior vice-president of Bangladesh Inland Water Transport and Passenger Transport Corporation, said the launch left BIWTA Narayanganj Ghat with 40/50 passengers for Munshiganj. On the way, the launch sank when it was hit by a cargo ship near the bridge under construction on the Shitalakkha River.
Sadar Naval Police SI Yunus Munshi, who went to the spot, said the lighter was pushed from behind the ship and sank. Many passengers are thought to be missing after being swept ashore.
Narayanganj Fire Service Deputy Assistant Director Abdullah Al Arefin said three divers had been brought down. Rescue operations are being hampered by strong winds. However, it is feared that there are several casualties or missing.