Bangladesh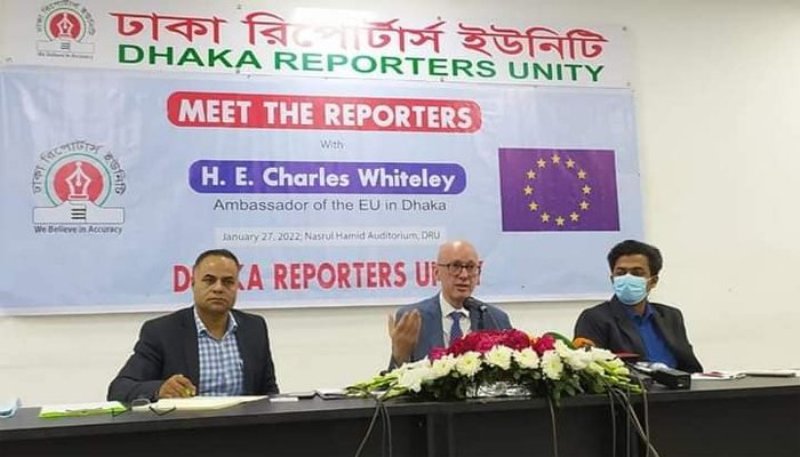 Collected
Letter seeking RAB ban is private: EU Ambassador
Dhaka, January 27: Ivan Stefanec, a member of the European Parliament, has written to the European Union (EU) Foreign Office seeking a ban on the Rapid Action Battalion (RAB). This is a personal letter. EU Ambassador to Dhaka Charles Whiteley said he had no information on the matter.
This was stated by Ambassador Whiteley in response to a question from reporters at the 'Meet the Reporters' program organized at Dhaka Reporters' Unity (DRU) on Thursday (January 27). DRU President Nazrul Islam Mithu and General Secretary Nurul Islam Hasib were present on the occasion.
"I have no information about the letter to the EU Parliament regarding the ban on RAB," the ambassador said. "This is a personal letter. A person must have the right to express personal opinion. I think so too. RAB has been banned by the US Treasury Department. It would not be right for me to comment on that."
Whiteley expressed hope that the steps taken by the Bangladesh government to lift the RAB ban would solve the problem quickly.
According to diplomatic sources, Ivan Stefanec, a member of the European Parliament, wrote a letter to EU foreign policy chief Josep Borrell Fontelles on January 20 to ban the RAB.
"I draw your attention to the volatile situation in Bangladesh," Stefanec wrote in the letter. "Reports from Amnesty International and Human Rights Watch expose the inhumane behavior of Bangladesh's ruling party. Notable among these are changes in election results and the suppression of political dissent. This situation is currently very serious. This is because the US government has imposed sanctions on the current IGP of the police who was previously the head of the RAB. The ban has been imposed for extrajudicial killings, especially for the murder of Teknaf councilor Ekramul Haque in May 2018."
Five more senior Bangladeshi officials have been banned by the US Treasury Department under the Magnetinease Global Program. Human rights groups and many U.S. senators have been talking about imposing sanctions on the RAB for years.