Bangladesh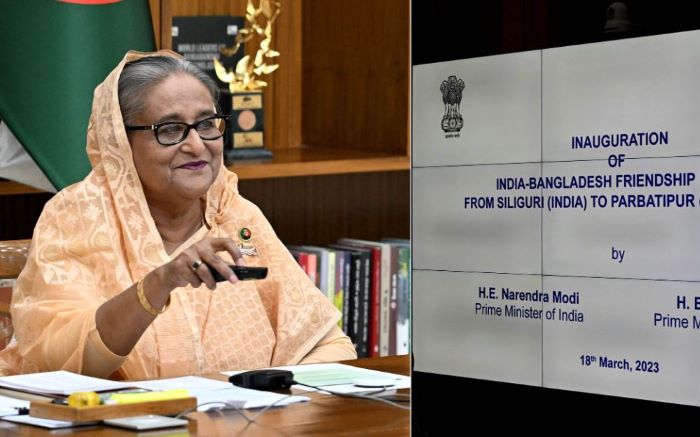 PID Bangladesh
Maitri pipeline is a milestone in the development of cooperation between the two countries: Hasina
Dhaka, 19 March 2023 : Prime Minister Sheikh Hasina has described the inauguration of India-Bangladesh Friendship Pipeline as a milestone of mutual cooperation in the development of the two friendly countries.
He said, I believe the Maitri Pipeline is a milestone achievement in the development of cooperation between our two friendly countries.
The Prime Minister said this after inaugurating the India-Bangladesh Friendship Pipeline on Saturday. Sheikh Hasina from Gana Bhavan and Prime Minister Narendra Modi from India inaugurated the Bangladesh-India Friendship Pipeline by pressing a button through video conference.
India will export diesel to Bangladesh through the 131.5 km Maitri Pipeline (IBFPL) constructed at a cost of INR 3.46 billion from the Indian Line of Credit (LoC).
Diesel will be imported from Numaligarh Refinery in Siliguri, India to Parvatipur depot in Dinajpur district of Bangladesh through a 130 km pipeline.
Out of this, 125 km is in the Bangladesh part and 5 km in the Indian part. The pipeline has an annual transportation capacity of one million metric tons (MMTPA) of high speed diesel (HSD).
After inaugurating the pipeline, both the Prime Ministers expressed hope that it will play an effective role in boosting the economy of Bangladesh. They also emphasized the need to increase connectivity between the two countries for mutual benefit.
Prime Minister Sheikh Hasina said, it will increase the energy security of Bangladesh as well as accelerate the economic growth. He said, India is our true friend. I want the friendship between our two countries to remain intact.
Bangabandukanya said, Bangladesh has now got the status of a developing country, we want to implement it. We want to develop Bangladesh further by 2041, so that we can work together for the overall development and welfare of the people of both countries, keeping this friendly relationship with India, that is our goal.
Sheikh Hasina said, 'Because, we want the development of our country to be accelerated. Along with this, we have upgraded our Mongla and Chittagong ports and Sylhet, Chittagong International Airport and Syedpur Airport as regional airports. Opening them completely for India so that India does not face any difficulty in using the ports. As a result, trade and commerce will be easier and the people of both countries will benefit.