Bangladesh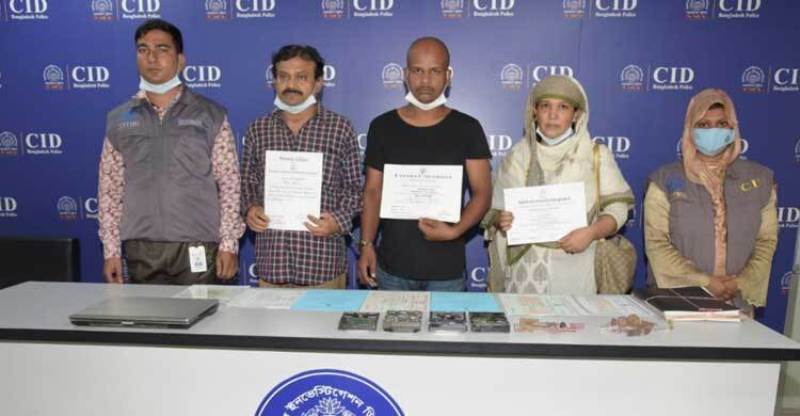 Collected
Making and selling fake certificates of various educational institutions, including DU: 3 arrested
Dhaka, October 6: The Criminal Investigation Department (CID) of the police has arrested three members of a fraudulent ring producing fake certificates and seals of various educational institutions, including Dhaka University. The arrested are- Kamruzzaman Md. Salam (56), Rubina Akhter (40) and associate Mahmudul Hasan Sohag (33).
On Sunday night, on the basis of secret information, a team of CID Dhaka Metro East arrested them from the coaching center called Homosapiens on the second floor of the Century Dale building on Indira Road in the capital's Farmgate and from Demra.
According to the CID, the arrested Salam had been the controller of Darul Ihsan University for a long time. When all the activities of the university were stopped on July 16, 2016, he and his wife set up the coaching center at the Indira Road building.
Behind the coaching center, they had been cheating the custody of the seals of various individuals and institutions who had forged certificates of various educational institutions.
Confirming the matter, CID Senior Assistant Superintendent of Police (ASP Media) Jisanul Haque on Monday (October 5th) night said that some persons fraudulently prepared fake certificates of Dhaka University, Board of Secondary and Higher Education, various private universities, educational institutions, various individuals and educational institutions in their custody.
The CID received complaints that it was being sold to various individuals and organisations.
According to the report, a CID team raided the coaching center on Farmgate Indira Road last night and arrested Kamruzzaman and his wife. During this time, 46 fake certificates of different educational institutions and seals of 6 different individuals and institutions were recovered from their custody.
Later, on the basis of the information given by them, their associate Mahmudul Hasan Sohag was arrested from Sarulia Bazar Success Coaching Center under Demra Police Station.
Fake certificates of 21 different organisations and 3 fake certificates of different individuals and organisations were recovered from their custody.
A case has been filed against the arrested at Sher-e-Bangla Nagar police station on Monday.
Efforts are underway to arrest those involved on the basis of their interrogation information, as well as legal action against them.