Bangladesh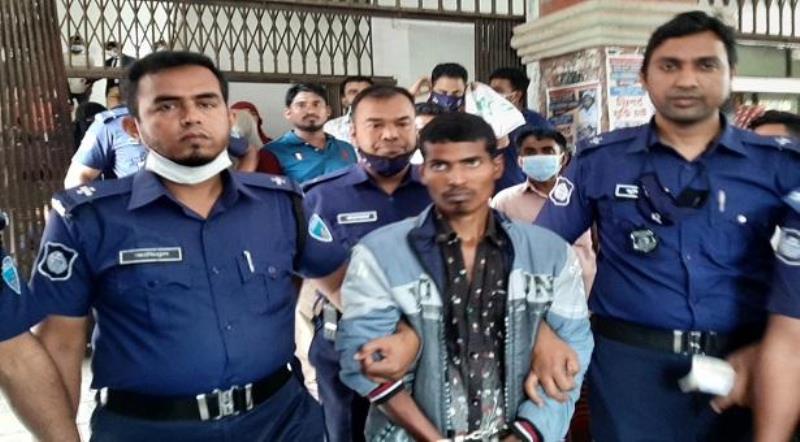 Collected
Man sentenced to death for murder in the judge's private room
Dhaka, March 8: Comilla court has sentenced another accused named Md Hasan (25) to death for stabbing an accused named Farooq after entering the judge's private room. Comilla District and Sessions Judge Md Atab Ullah handed down the verdict at noon on Monday (March 8).
Md. Hasan, who was sentenced to death, is the son of Shahidullah of Bhojpur village of Laksam upazila of Laksam upazila of the district. Hasan's relatives were present in the court when the verdict was announced.
According to the complaint and court sources, on July 15, 2019, Additional District and Sessions Judge on the third floor of Comilla Court building came to appear before the third court in the murder case of Haji Abdul Karim of Kandi village of Manoharganj upazila. Md. Faruk, son of Ahidullah of Kandi village of Manoharganj upazila. Hasan tried to hit Farooq with a knife. When Farooq entered the judge's khas room to save his life, Hasan stabbed him randomly and inflicted bloody wounds. He was later taken to Comilla Medical College Hospital where the on-duty doctor declared him dead.
Assistant Sub-Inspector (ASI) Firoz Ahmed arrested Hasan with a blood-stained knife. He filed a murder case against Hasan at Kotwali Model Police Station on the same night. The case was later transferred to DB. Investigating officer DB inspector Pradeep Mandal filed a chargesheet against the accused on August 26 of the same year at Comilla Senior Judicial Magistrate Amli Court No. 1.
Advocate Zahirul Islam Selim, Public Prosecutor (PP) of the Comilla District and Sessions Judge's Court, said the killing in the Comilla court was an unprecedented and shocking incident. The accused was arrested with a knife by the police immediately after the incident. Justice has been established in this verdict.