Bangladesh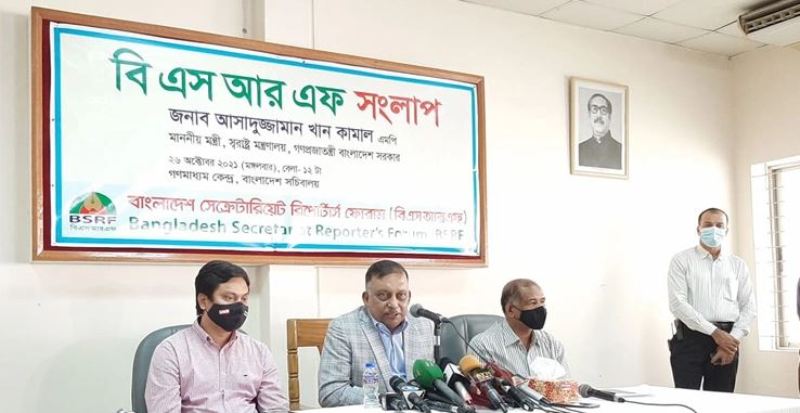 Collected
Marquee Attack: Names of instigators to be revealed soon, says Home Minister
Dhaka, October 26: The names of the perpetrators of the violence in the puja mandapa will be revealed soon. Home Minister Asaduzzaman Khan Kamal made the remarks at a 'BSRF Dialogue' organized by the Bangladesh Secretariat Reporters Forum (BSRF) at the Media Center at the Secretariat on Tuesday (October 26) at noon. General Secretary Masudul Haque presided over the function.
The minister said, "So far, there have been 10 cases of violence related to keeping the Holy Quran in the puja mandapa in Comilla. Those arrested in the Rangpur and Noakhali incidents have named the instigators. They have given these names in the statement given under section 164. However, we will be 100 percent sure to reveal their names in front of you. We don't want to speculate now whether BNP-Jamaat is involved or not. We want to know for sure. The arrestees' statements are being taken, the names of those instigators will be revealed soon."
The Home Minister said, "Father of the Nation Bangabandhu Sheikh Mujibur Rahman dreamed of a non-communal Bangladesh. He had said, this country belongs to everyone; There will be no discrimination against religion in this country. This country will be secular. We continue to hold on to that ideal. I have seen Hindus, Muslims, Buddhists and Christians practicing their respective religions. But, lately, there has been violence in the puja mandapa. Who or what has left the Quran Sharif in the puja mandapa has created an problematic situation."
He said, "We assumed from the beginning that the Quran had been left behind and had come from somewhere. We took it as a challenge, sending teams of all levels of our police there, so that the real facts could be uncovered. We saw that there was a pond next to a mosque, fish was being farmed in the pond, the fisherman had set up a camera on the verandah of the mosque, where it was clearly seen that someone took the Quran from the mosque and replaced with Hanuman's mace."
The minister said, "He was on the run when the incident came to light. We arrested him, released his name. He is being questioned. There have been 10 cases of violence in Comilla on October 13 and so far 18 people have been arrested in that incident."
The minister further said that the violence was well-planned to destabilize the country and destroy communal harmony. The arrests in this case have been recorded under Section 164, in which the names of many have been known. He said it would be possible to find out who caused this very soon.