Bangladesh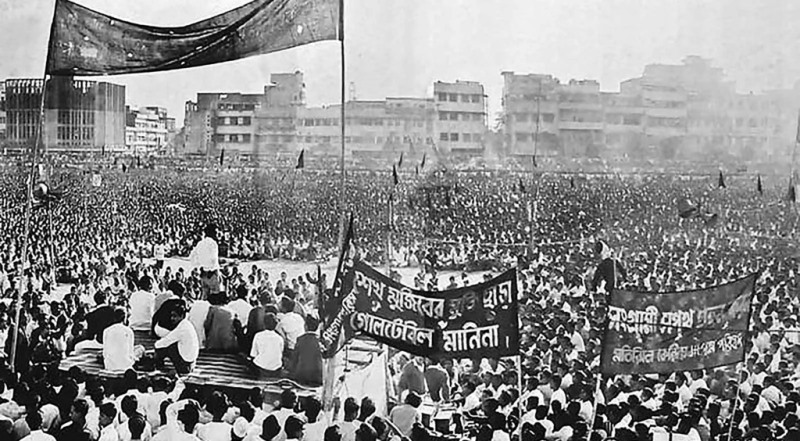 File photo/Wikimedia Commons/Rashid Talukder
Mass Uprising Day today
Dhaka, January 24: One of the main milestones of the independence movement of the Bengali nation was the historical Mass Uprising Day of 1969, which took place on this day (January 24). This mass uprising took place in the context of the famous six-point programme of the nation's liberation charter and later the 11-point programme given by the student society on behalf of the liberating oppressed people.
President Md. Abdul Hamid and Prime Minister Sheikh Hasina gave separate messages on the occasion of the day.
Paying tribute to the memory of those who were martyred in the independence movement of the country, the President said in his speech, "January 24, 1969, is a historic day in the independence and democratic progress of Bangladesh. This day has been remembered in the history of our freedom struggle and independence movement as the People's Uprising Day."
In her speech, the Prime Minister said, "The popular uprising of 1969 is a significant chapter in the history of Bangladesh. We achieved great freedom through the armed liberation war following the fifty-two language movement, Bengali liberation charter 6 points, later 11 points and mass uprising of 1969. Got independent-sovereign Bangladesh."
The popular uprising of 1969 is a historic event in the history of the long freedom struggle of Bengali under the undisputed leadership of Bangabandhu Sheikh Mujibur Rahman, the greatest Bengali father of the nation. On January 4, 1969, leaders of progressive student organizations including Chhatra League, Chhatra Union formed the Central Chhatra Sangam Parishad and announced 11-point demands in the path of progressive struggle based on the ideology of the 6-point mass movement declared by the Father of the Nation Bangabandhu Sheikh Mujibur Rahman.
The main basis of this 11-point demand was the 6-point declared by Bangabandhu. The 6-point based 11-point demands include the demands of the student community as well as the interests of farmers and workers. One of the main demands of this movement was the withdrawal of the Agartala conspiracy case and the release of the royal prisoners including Bangabandhu Sheikh Mujibur Rahman. The popular uprising of 1969 took place in the context of the 6-point and later the 11-point program. On January 17, 1969, when student leaders called for a strike in all educational institutions across the country, the then Governor of East Pakistan, Monem Khan, issued Section 144 to suppress the student movement.
In protest against government oppression, the program of student assembly and protest march was taken at Battala of Dhaka University on January 20. The movement intensified when the student leader Amanullah Mohammad Asaduzzaman (Assad) was killed by the police in this procession. After the martyrdom of Assad, the spontaneous participation of people from all walks of life on January 21, 22 and 23 led to an unprecedented mass uprising on January 24.