Bangladesh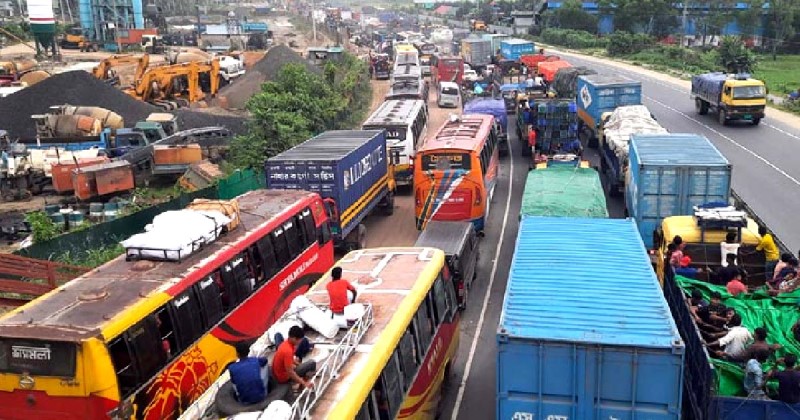 Collected
Massive traffic congestion covers 35 kilometres on the Tangail highway
Dhaka, July 21: Homebound people on the Dhaka-Tangail-Bangabandhu Bridge highway are not comfortable. Passengers and transport workers are suffering due to traffic jams and slow fences during the last day's Eid procession. As time went by, the extent of suffering increased.
According to the latest information on Tuesday (July 20) evening, traffic was slow on the 35 km road from Bangabandhu Bridge East to Pakulla in Mirzapur Upazila. Traffic jams are also created somewhere. Women and children are in extreme trouble. However, members of the law enforcement agencies are working to reduce traffic congestion and keep the traffic normal.
It is learned that due to the pressure of extra vehicles and homebound people, on the eve of Eid on Tuesday (July 20) from early morning on the Dhaka-Tangail and Bangabandhu Bridge highways from Bangabandhu Bridge East to Ashekpur Bypass of Tangail Sadar Upazila slowed down 25 km. During the day, the traffic in the North Bengal-bound lane of the highway continued in the midst of traffic jams and slow-moving vehicles. As the day progressed, the traffic congestion and the speed limit became wider across the 35-kilometer area.
Yasser Arafat, a police officer on duty on the highway and in-charge of the Elenga Highway outpost, said there was still pressure on the highway for extra vehicles and homebound people. Traffic is slow on this part of the highway. Police are working to keep the situation and traffic normal. We hope that the traffic on the highway will be normal soon.