Bangladesh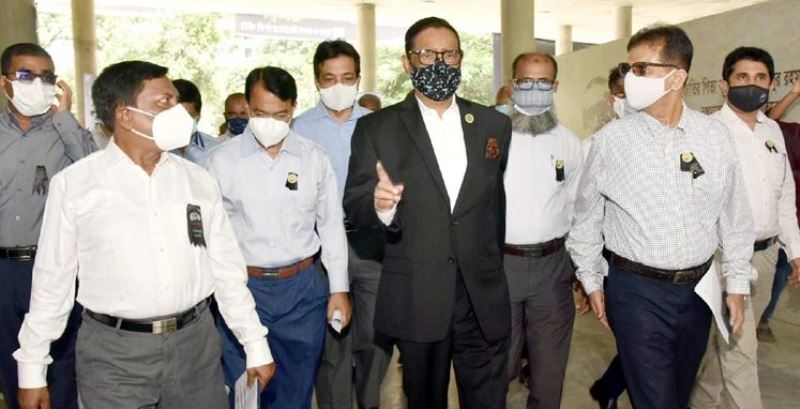 Collected
May impose a stricter lockdown if situation demands: Quader
Dhaka, August 9: The government is relaxing the lockdown in the interest of human life and livelihood. Awami League General Secretary and Minister for Road Transport and Bridges Obaidul Quader has said that a strict lockdown may be imposed again considering the situation. He said this while attending a function at Tejgaon Sarak Bhaban on Monday.
The Minister was speaking at the signing ceremony of an agreement between the Department of Roads and Highways and a construction company at the Department of Roads and Highways this morning.
The Minister said that the roads and highways of the country are being developed so much and several projects are being taken but the order has not been restored on the highways.
Obaidul Quader sought the cooperation of all stakeholders and owners-workers considering the overall situation and in the public interest. The minister instructed the vehicles to be sterilized and cleaned before transport, adding that passengers should ensure 100 per cent wearing of masks. He urged the BRTA to take necessary steps in this regard.
Obaidul Quader also blamed some of the engineers for blacklisting the road construction companies considering the quality of the work.
Obaidul Quader urged the BNP to learn from Sheikh Hasina's pro-people politics. The BNP general secretary said the BNP could have learned a lot from Sheikh Hasina's 'deep and obedient commitment' to the people, but the cruel truth of history is that the BNP did not learn from history. He also remarked that the BNP's past was tarnished by the bloody conspiracy.
In a short period of time, the government will be able to collect the required number of vaccines, the BNP could not have imagined, said Obaidul Quader to them, "they thought it would take years to get vaccinated."
Noting that the BNP is not tolerating the government successfully carrying out mass vaccination program with adequate stock of vaccines, he said, they are finding it hard to digest. Thus, when August comes, the BNP suffers from their bloody betrayal of the past.