Bangladesh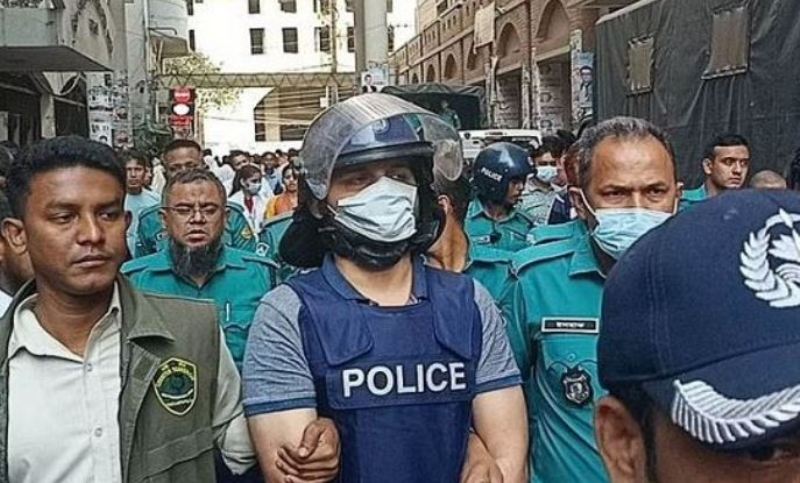 Collected
Mehdi, who participated in absconding with two militants, placed on 7-day remand
Dhaka, November 26: Mehedi Hasan Ami alias Rafi, who was arrested in connection with the snatching of the two defendants who were sentenced to death in the publisher Deepan murder case by spraying the eyes of the police from the premises of the Dhaka Chief Judicial Magistrate Court, has been placed on a 7-day remand by the court.
Police produced him in court on Thursday (November 24). After that, the investigating officer, Inspector Muhammad Abul Kalam Azad of Counter Terrorism and Transnational Crime Unit (CTTC) applied to take him on remand for 10 days for proper investigation of the case. After the hearing, Dhaka Metropolitan Magistrate Shafi Uddin granted a seven-day remand.
Arrested Mehdi Hasan took direct part in the militant robbery incident. He is a member of the military wing of Ansar al-Islam. His home is in Sylhet. He also participated in the mission to kill blogger Nazimuddin Samad, a law student of Jagannath University on April 6, 2016.
Last Sunday (November 20) at noon, militants snatched away two accused who were sentenced to death from the premises of the Chief Judicial Magistrate's Court in Dhaka. Meanwhile, the militants tried to snatch the accused Arafat and Sabur. Later Arafat and Sabur were arrested at the scene. In this incident, Court Inspector Julhas filed a case in the name of 20 people at Kotwali police station. In the case, 7-8 more people are named as unknown accused.
According to the statement of the case, on the instructions of the leader of the military wing of Ansar Al Islam Syed Mohammad Ziaul Haque alias Sagar alias Bara Bhai alias Major Zia (retired major), Ayman alias Moshiur Rahman (37), Sabbirul Haque Chowdhury alias Akash alias Konik (24) in planning, Tanveer alias Samshed Mia alias Saiful alias Tushar Biswas (26), Riazul Islam alias Riaz alias Suman (26) and Md Omar Farooq alias Noman alias Ali alias Saad (28) planned to attack the police and kidnap the accused.
In order to implement this plan, five-six unidentified members of Ansar Al-Islam took a position with two motorcycles. Also, 10/12 unidentified members of Ansar al-Islam stationed around the court stationed themselves in front of the main gate of the court. They then snatched away the accused from the police.