Bangladesh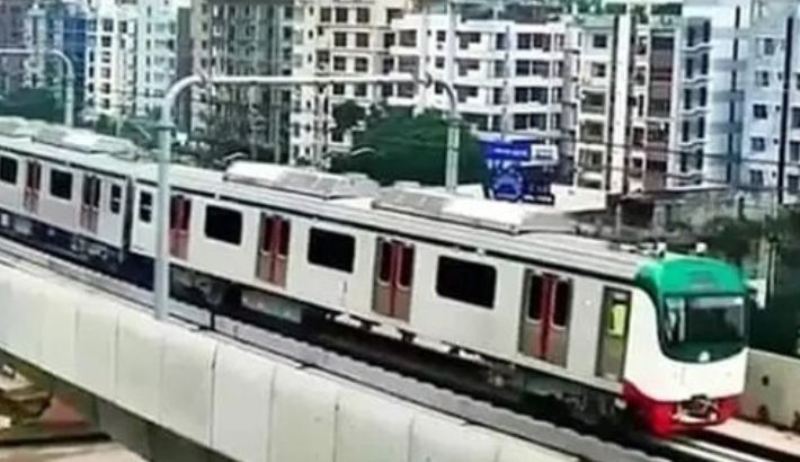 Collected
Metro Rail trial run starts on Uttara-Agargaon route
Own representative, Dhaka, December 10: As a part of the Performance Test, Metro Rail has started plying from Uttara to Agargaon at a maximum speed of 15 kmph. The distance from Uttara to Agargaon section is 11.58 kilometers. It took an hour and a half to cross this road on Thursday (December 9). The train stopped at Uttara North, Uttara Center, Uttara South, Pallabi, Mirpur-11, Mirpur-10, Kazipara and Shewrapara stations and reached Agargaon at 12:47 pm.
Metro Rail Project Manager ABM Arifur Rahman said that next Sunday (December 12) for the first time (officially) Metro Rail will run from Uttara to Agargaon. Therefore, Metro Rail has been run experimentally in this part on Thursday. Earlier, the experimental operation of Metro Rail was limited to Mirpur-10. As a test, passengers will not be transported during this operation. He added that Metro Rail was run on this route on Thursday mainly to check the readiness of railways, power transmission lines and stations.
It is known that the maximum speed of Metro Rail at the beginning of the first part of the movement is 15 kilometers per hour. In other words, the train will run at a speed of less than 15 kilometers from Mirpur-10 to Agargaon. However, the train has been running experimentally from Uttara to Mirpur-10 for a long time. The speed has been increased up to 100 kilometers on that road. Metro Rail is fully electric. Seventeen to 18 systems, including signal and communication, work in running the train.
Meanwhile, the government plans to start commercial operation of the country's first Metro Rail section from Uttara to Agargaon in December next year. The 20.10 km long project will be constructed from Uttara third phase to Kamalapur. The overall progress of the project is 72 percent. However, the progress of the project from Uttara third phase to Agargaon is 89.61 percent. The total cost of the project has been estimated at Tk 22,000 crore.
In the first section, the total length from Uttara to Agargaon is 11.58 km. Now Metro Rail will run regularly on this route without passengers.