Bangladesh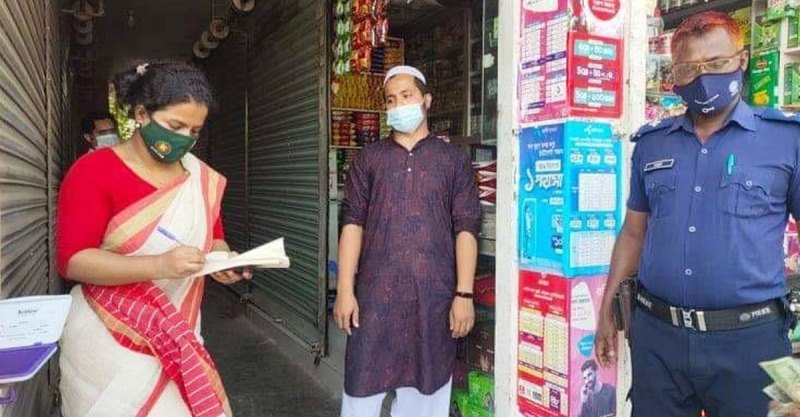 Collected
Mobile court fines for non-compliance with government regulations on first day of lockdown
Dhaka, April 15: The Dhaka South City Corporation (DDC) on Wednesday conducted 11 mobile court raids against mosquito larvae and non-compliance with lockdown hygiene rules to prevent coronavirus. The raids were conducted by the corporation's regional executive officers (Anik) as well as three executive magistrates of the corporation.
During the raid, the court imposed a fine of around Tk 1.25 lakh for disobeying health rules in some areas and finding mosquito larvae in some installations.
Meanwhile, 10 executive magistrates of the district administration in Chittagong on Wednesday conducted mobile courts in different parts of the city. A total of Tk 19,030 was recovered in 33 cases. At the same time, 5,500 masks were also distributed for awareness.
According to district administration sources, Executive Magistrate Md Zillur Rahman conducted mobile courts in Patenga, EPZ and Bandar areas of the city and collected fines of Tk 5,130 in 13 cases and Executive Magistrate Umar Farooq conducted mobile courts in Pahartali, Halishahar and Akbarshah areas in three cases and was fined a Tk 1,000.
At the same time, Executive Magistrate Ashraful Hasan conducted mobile courts in Patenga, EPZ and Bandar areas and collected fines of Tk 3,700 in three cases and Executive Magistrate Masuma Jannat Kotwali, Sadarghat and Double Mooring areas imposed fines of Tk 1,500 in five cases.
The first day of the lockdown announced by the government to prevent Covid-19 infection has passed in Satkhira. All upazilas including Satkhira district wear masks, maintain health rules, maintain social distance.
The wise executive magistrate appointed by the district administration has operated 72 mobile coats on various charges including keeping businesses open. He conducted 12 mobile coat operations in different areas of the district including the city from yesterday morning. A fine of Tk 1,56,800 was imposed on the raid. Satkhira Deputy Commissioner's Office has confirmed this information.
On the first day of the lockdown, executive magistrates in Noakhali conducted a total of 13 raids throughout the day.
A fine of Tk 1,05,700 was imposed in 76 cases in Noakhali district. Noakhali District Administration Executive Magistrate Saikat Raihan confirmed the matter to Dhaka Post.