Bangladesh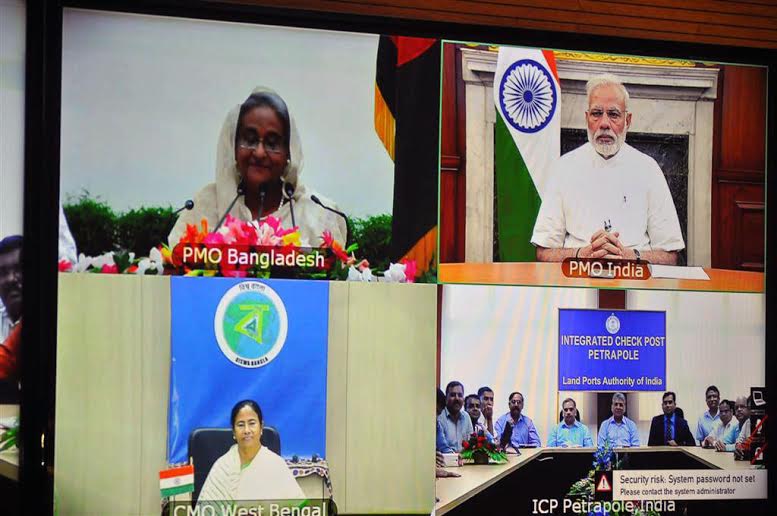 Modi, Hasina inaugurate Petrapole Integrated Check Post
New Delhi, July 21: Prime Minister Narendra Modi and Prime Minister of Bangladesh Sheikh Hasina on Thursday jointly inaugurated the Petrapole Integrated Check Post through video-conferencing.
Chief Minister of West Bengal Mamata Banerjee also participated from Kolkata in the video-conference.
Petrapole-Benapole is an important land border crossing for India-Bangladesh trade.
More than 50 per cent of the India-Bangladesh trade passes through Petrapole.
Trade worth more than Rs. 15000 Crore takes place through the Petrapole ICP, which is more than all the other Indian Land Ports and Land Customs Stations put together.
Approximately 15 lakh people and 150,000 trucks cross Petrapole-Benapole every year.
The Petrapole ICP will provide better facilities for effective and efficient discharge of functions such as security, immigration, customs, quarantine, etc. while also providing support facilities for smooth cross-border movement of persons, goods and transport.
Petrapole ICP will be the second ICP on the India-Bangladesh border after the Agartala ICP at the Agartala (India)-Akhaura (Bangladesh) land border. It will also be the biggest land port in South Asia.
It is expected that the capacity will double with the commissioning of the Petrapole ICP and the local business community will benefit immensely from reduced transaction time and costs.
The commissioning of the Petrapole ICP will also serve to foster greater economic integration and connectivity between India and Bangladesh.