Bangladesh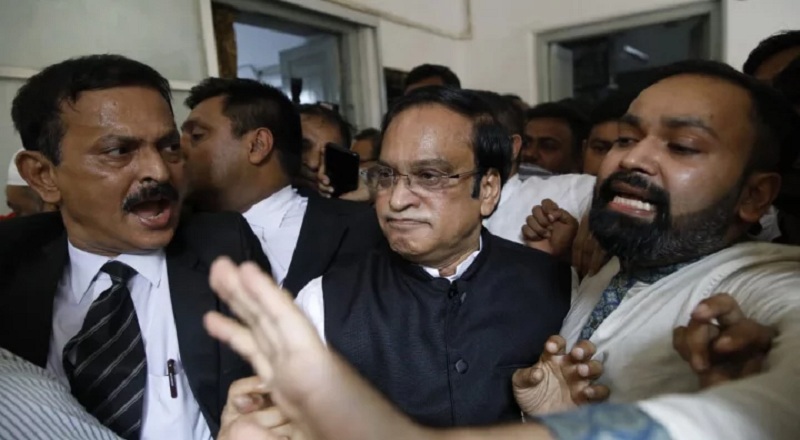 Amirul Momenin
MP Haji Selim in jail
Dhaka, May 22, 2022: Awami League MP (MP) Haji Mohammad Selim has been sent to jail after he surrendered following a High Court order in a corruption case.
Following the hearing on Sunday (May 22nd), Judge Shahidul Islam of Dhaka's Special Judge's Court-6 ordered him to be sent to jail.
Haji Mohammad Selim surrendered to the court and applied for bail on any condition.
Haji Selim's lawyer Shri Pran Nath mentioned in the application that Haji Selim has been speechless for a long time due to bleeding in the brain during open heart surgery in 2016. He has received treatment at home and abroad. If you are in jail, any accident can happen due to lack of treatment and lack of speech. For this reason, I am applying for his bail on any condition. He will not run away if he gets bail. Therefore, I am applying for his bail by surrendering on the condition of appeal.
The case file from the High Court reached the court of Judge Shahidul Islam of Dhaka Special Judge's Court-8 at around 3 pm on April 25. Judgment documents were sent from the concerned branch of the High Court on that day.
Anti-Corruption Commission (ACC) lawyer said. Khurshid Alam Khan said that according to the law, Haji Selim has to surrender to the court within the next 30 days from today. And as a result of the decision of the High Court, he is not eligible to be a Member of Parliament.
Earlier, the High Court upheld the sentence of 10 years imprisonment and a fine of Tk 10 lakh given to Haji Selim in a judicial (lower) court.
March 9, 2021, said Justice. A bench comprising Moinul Islam Chowdhury and Justice AKM Zahirul Haque passed the order. The verdict was released in February this year.
The court also sentenced Haji Selim to one more year of rigorous imprisonment for non-payment of the fine and ordered him to surrender to the court within 30 days of receiving the verdict. If he does not surrender, his bail will be canceled and an arrest warrant will be issued against him. Haji Selim's property was also asked to be confiscated in favor of the state.