Bangladesh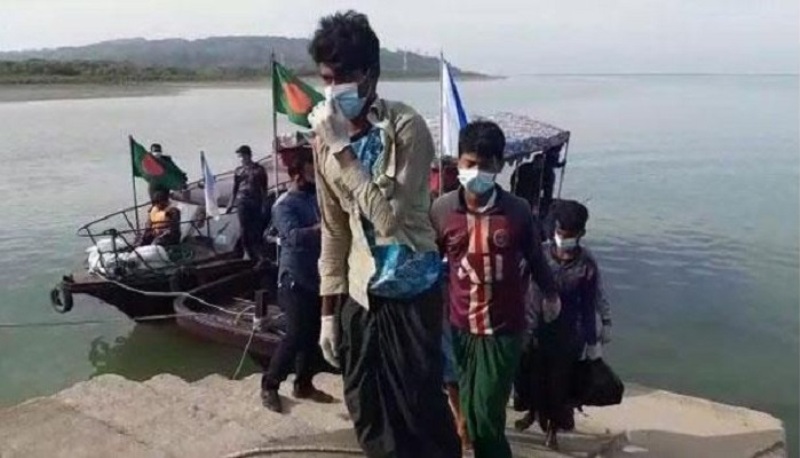 Collected
Myanmar releases nine detained fishermen
Dhaka, November 26: Myanmar has returned nine Bangladeshi fishermen abducted by the BGP while fishing in the mouth of the Naf River in the Bay of Bengal, 15 days after detaining them. They were handed over after a flag meeting between Border Guard Bangladesh (BGB) and Border Guard Police (BGP) inside Myanmar on Wednesday (November 25).
The returning fishermen are- Nurul Alam (48), Ismail alias Hossain (19), Md. Elias (21), Md. Yunus (16), Mohammad Alam alias Kalu (11), Saiful (17), Salim Ullah (25), Nur Kamal (13) and Md. Lalu Mia (23). They are all residents of different villages on Shahpari Island in Teknaf.
According to BGB sources, a flag meeting was held between Teknaf-2 BGB and 4 Border Guard Police Branches at the No. 1 entry-exit point in Maungdaw, Myanmar on Wednesday afternoon. Teknaf-2 Border Guard Battalion Commander Lieutenant Colonel Faisal Hasan Khan led the 10-member delegation on behalf of Bangladesh. The 7-member Myanmar delegation was led by Lt. Col. Joe Lin Aung, commander of Myanmar's 4th Border Guard Police Branch.
Earlier, the BGB delegation left for Myanmar from Bangladesh-Myanmar Transit Ghat at Jalliapara in Teknaf Municipality at 10:30 am.
At the end of the meeting, the BGB returned to Bangladesh with nine fishermen who had been imprisoned for a fortnight. The returning fishermen were examined and sent to a 14-day institutional quarantine.
On his return, Teknaf-2 Border Guard Battalion Commander Lieutenant Colonel Faisal Hasan Khan gave this information at a press conference at Jalliapara Jetty in Teknaf. Teknaf-2 BGB Deputy Commander Major Rubayat Kabir, Operations Officer Major Mohammad Rahul Asad and others were present at the occasion.
According to the source, on November 10, while fishing in the sea, the engine broke down and the nine fishermen entered the waters of Myanmar. The BGP took them away. The BGB later sent a letter to the Myanmar authorities asking for their return.
Myanmar then agreed to hand over the fishermen through the efforts of the BGB and the upper house. At their invitation, they were returned through a meeting inside Myanmar on Wednesday. The next step will be taken at the end of the institutional quarantine of fishermen.