Bangladesh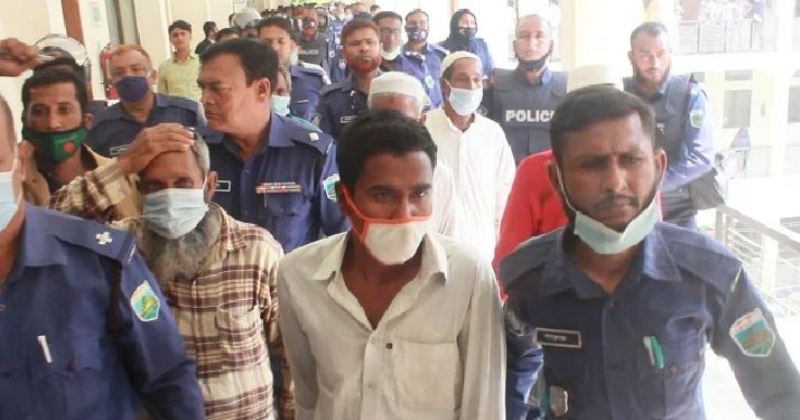 Collected
Naogaon murders: Nine sentenced to death for killing three people
Dhaka, March 14: A court has sentenced nine people to death and one to death for killing three people in Badalgachhi in Naogaon district. At the same time, each of the convicts has been fined Tk 50,000. Judge Mahmudul Islam of Naogaon Additional District and Sessions Judge's Court-2 handed down the verdict on Monday (March 14). Another 10 accused in the same case have been acquitted.
The convicts were Saidul, Aizul Haque, Helal Hossain, Jalal Hossain, Belal Hossain, Zayed, Abul Hossain, Mostafa and Sohag Ali of Ujalpur village in Badalgachhi. Among them Saidul, Zayed and Sohag are fugitives. Others were present in court at the time of the verdict. Accused Hashem Ali has been sentenced to a lifer. He is a resident of Ujalpur village in Badalgachhi. He was present in court at the time of the verdict.
According to the summary of the case, the families of Shahidul Islam, his brother Amjad Hossain and brother-in-law Abdul Wadud of Ujalpur village of Badalgachhi were in dispute over the land. Opposition members attacked Shahidul Islam, Amjad Hossain and Abdul Wadud with domestic weapons on June 6, 2014 at around 3 pm and killed them. Shahidul Islam's son Farhad Hossain filed a murder case against 24 people at Badalgachhi police station.
Three of the accused died before the chargesheet was filed in the court. After investigating the case, the investigating officer of the case filed a chargesheet against 20 people in the court on December 5, 2021. Testimony in the case began on December 6, 2021. The court passed the verdict today after taking testimony of 16 plaintiffs and defendants in the case.
Assistant Public Prosecutor (APP) Mozahar Ali said the court had sentenced nine of the 20 accused to death and one to lifer as the plaintiff was able to prove beyond a reasonable doubt the offense under section 302/34 of the Penal Code.