Bangladesh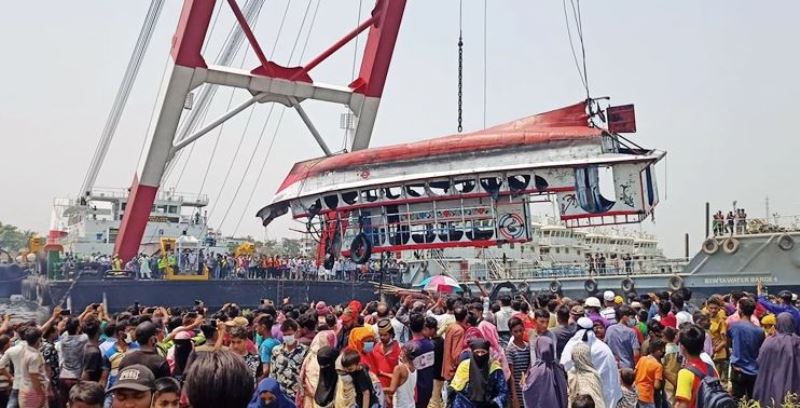 Collected
Narayanganj launch capsize: Death toll mounts to 29, search called off
Dhaka, April 6: The bodies of 29 people, including women and children, have been recovered after a passenger launch sank in the Shitlokkha river in Narayanganj; The administration said seven people were still missing.
Sadar Upazila Nirbahi Officer-UNO Nahida Barik said the bodies of 24 more people were recovered from noon to evening on Monday. The bodies of five people were recovered on Sunday. The official rescue operation was completed on Monday afternoon after 29 bodies were recovered and the launch was towed. However, the search for the missing is still going on in the river.
Arriving at the scene, Deputy Commissioner Mostain Billah told reporters that the sunken launch was pulled and rescued with the help of BIWTA's rescue ship Suffix. After recovering 29 bodies, the operation was officially declared over. He said a search operation was being carried out in the river in search of the missing. At the same time, the naval police have been directed to find the lighter ship responsible for the accident and bring it under the law. The launch named Sabit Al Asad was sunk by a cargo ship in Koylaghat area of ​​Sadar upazila around 6pm on Sunday.
BIWTA Chairman Commodore Sadeq said that after the launch sank at 7.30 pm on Sunday, various agencies including BIWTA, Fire Service, Coast Guard and Navy started working together. With the joint cooperation of all, the sunken launch was rescued at 12:30 pm on Monday and taken to the east bank of the river. The bodies were recovered after searching the sunken launch and handed over to the relatives under the supervision of the district police including the naval police.
He said the rescue operation was over and the naval channel was opened for traffic.
Sadar UNO Nahida said the 29 people rescued in the launch sinking included six children, nine men and 14 women. The body was handed over to relatives after identification.
UNO Nahida said the district administration had given Tk 25,000 to each family killed for burying the body. In addition, the river is still being searched for seven missing people.
The passenger launch 'MV Sabit Al Hasan', which left the BIWTA terminal at around 6 pm on Sunday, sank when a cargo ship 'SKL-3' pushed it from behind at the city's coal ghat area and the launch sank. Many of the launchers were able to swim ashore.